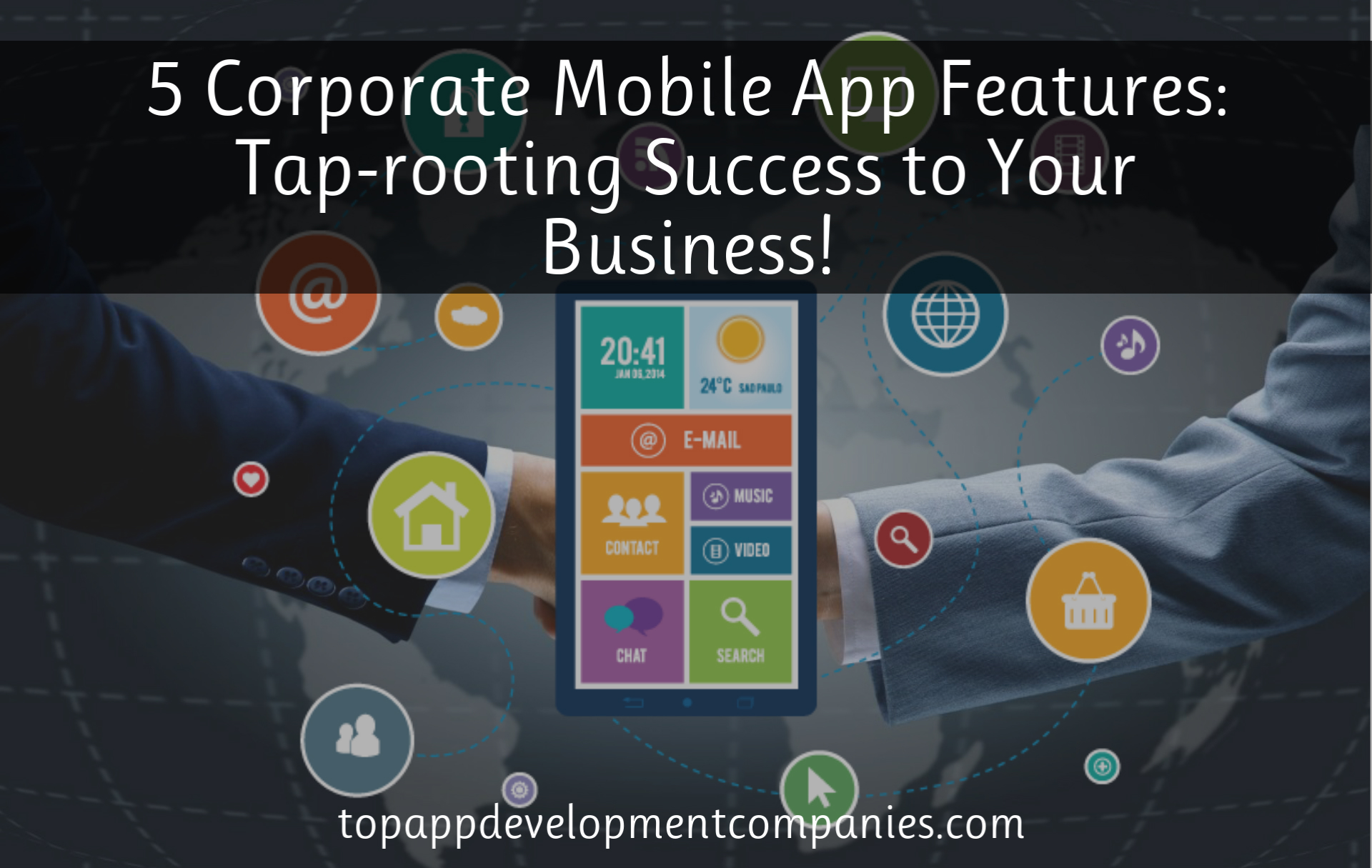 5 Corporate Mobile App Features: Tap-rooting Success to Your Business!
08-03-2016
---
Mobile apps are one of the most common and popular tools to make communication possible between businesses and the customers. Leveraging a dedicated mobile app to your customers inside their smartphones is one of the best marketing strategies one could have ever thought of because every people want to control their decisions regarding how, when and where they will interact with their brands, personals or any other. Unfortunately, not every business applications are successful in the market and not all the apps are that easy that people tend to install them on their device. The proportion of people that tend to uninstall your app is more as because you fail to meet the expectations and do not offer the navigation that you were supposed to provide.

Though the standard and expected code of practice is not rationalized yet and so, here are some of the features recommended by top app development companies as well by the marketing specialist that helps to get the best experience to your consumers. These recommendations ascribe to the most in-demand features which your corporate mobile app should have that leverages best ever up to your users.

Here are the top-notch features that you need to incorporate mobile app to get the best out of it.

1) Simplicity:
Simplicity is the grain oil of any application. Using an application should not be a trial rather, it should be a potent portal to experience. During brainstorming sessions, you may come across huge no of app ideas but at the time of implementation, it becomes hard to decide which features or the components should be included and which one should be excluded in the final feature list of the mobile application. It is hard to offer everything inside a single app. So make sure that you app should be simple and easy-going. Remember that simplicity should not be restrained till the User Experience inside the app. Make sure that your app link should be tied up with the relevant search words when inserted in Google.
2) User Feedback:
User feedback is one of the most important features for app owners as it consists of some valuable and noteworthy information regarding your app performance, how easy do people find it to interact with it and so on. It is one of the easy and well-known method approached for improvisation of the app.For customers, an option to send back feedback means that the company is interested to actively listen to them and their grievances with the app and does not consider them as numbers in the database list.
3) Customization:
Every user has their own preferences and an admiration to personalize the components of the app. Just like the software programmers that allows a user to arrange the most used tools specifications like Font, Style, size etc mobile applications should also leverage some similar levels of tailorization so that user can make maximum utilization of the app. Even though customization is the prime feature, you need to make sure that medium amount of customization is only available to the users so that they do not over-tailored and destroy the app's functionality.
4) Social Media Integration:
With social media increasing as a powerful tool to discuss between people and businesses, a company should take benefit of it by giving app users the rights to share the content they want to with their social friends which itself is one of the greatest sources for business marketing.
5) Offline Capabilities:
There may be a scenario where no internet facility is made available and in such cases, your app should be capable enough that user can operate even in offline mode and can perform all the essential operations that they used to perform in online mode.
Keeping in mind the above traits will help you to reap more success within a lesser time period. Hope that this blog will prove to be useful to start with any app development. Still, if you have any concern we are there to assist you. Contact us now and get the best ever solution for us.
Back