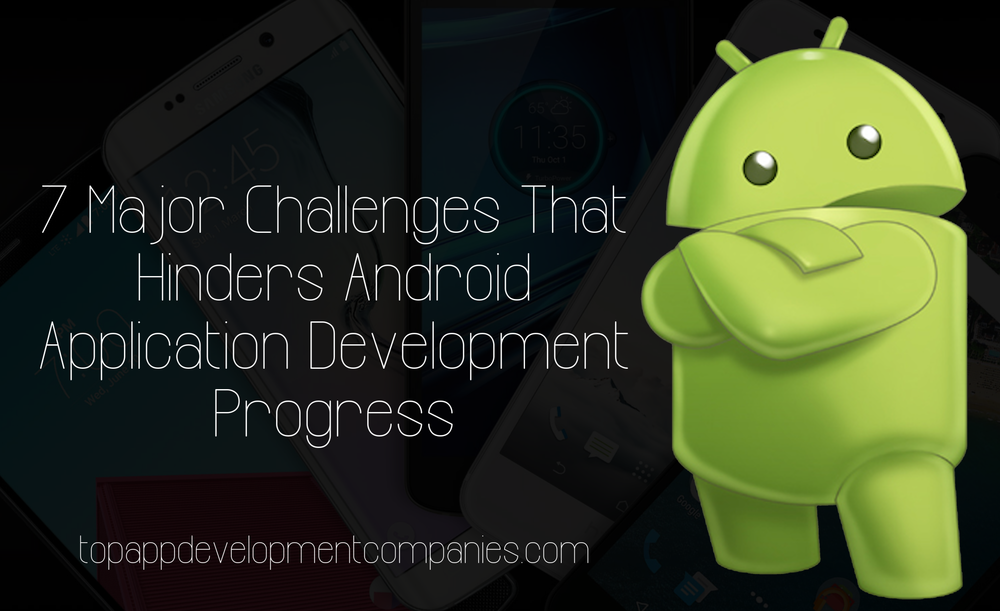 7 Major Challenges That Hinders Android Application Development Progress
07-20-2016
---
Developing Applications for the Android OS gives a lot of exemption to developers and permit of access to a fast-growing user base to the application owner. However, the developers come across many android application development questions in the process.

The Android platform showcases great fortunes for Android app developers. There are large no of Android-based service providers who can help businesses creating exceptional business applications for Android platform. As android being one of the most renowned platforms for smartphones universally, android leverages app owners access to huge no of the user base. However, despite alluring opportunities, developers need to face off certain challenges.

Some of the Key Android Application development challenges are as follows:

1) Software Fragmentation:
When it comes to application development, there are many android OS versions to keep up with which developers finds it tough enough to maintain. It sounds quite impractical to keep a focal point on the latest Android versions as it's not necessary that all the users have upgraded their mobile device with the latest OS.

2) Hardware Fragmentation:
This becomes a big android app development confront as there are nearly more than 170 devices that run on the same OS and as each device has a deviation in feature set with respect to factors like Screen Size, Camera etc that makes development phantasm.

3) No Software/Hardware Standardization:
As large no of devices are running on Android it arises a great challenge for app development as no standard protocols are maintained. As each device has different functions with respect to different components like button, camera etc it becomes hard to standardize hardware of software support.

4) Security:
Unlike Apple's strict guidelines and protocols for app development, no such dominion exists for Android apps. As an outcome, many malware issues arise and hardware/software fragmentation only makes solving the issues harder. This gives birth to large no of security issues.

5) Market Research Costs:
One of the biggest Android challenges for developers is the hidden expenses behind the market research for android development. Understanding the end- user is keylock to Android application development, but as it requires extensive research, it makes a significant amount of cost increase for developers.

6) Patent Issues:
The current law litigations indicate that few Android features may be declared as the breaching of patent issues. This can cause a great Android app development conflict for developers.

7) Android Market Search Engine:
One of the prime android application development contradiction for developers is the Android marketplace. Android consist of 8 million+ apps on it's play store today and getting your application visibility amongst those stunning apps is a great challenge to triumph. As a result, if you do not consider marketing as the key factor then, chances are high that you may loose traction.

So, these were few of the challenges amongst the stack that you need to overcome to develop a groundbreaking android app that breaks all the current marketing strategy making your app step at the topmost position. Still, if you have any query just drop us a word and we would assist you. Contact us now.
Back