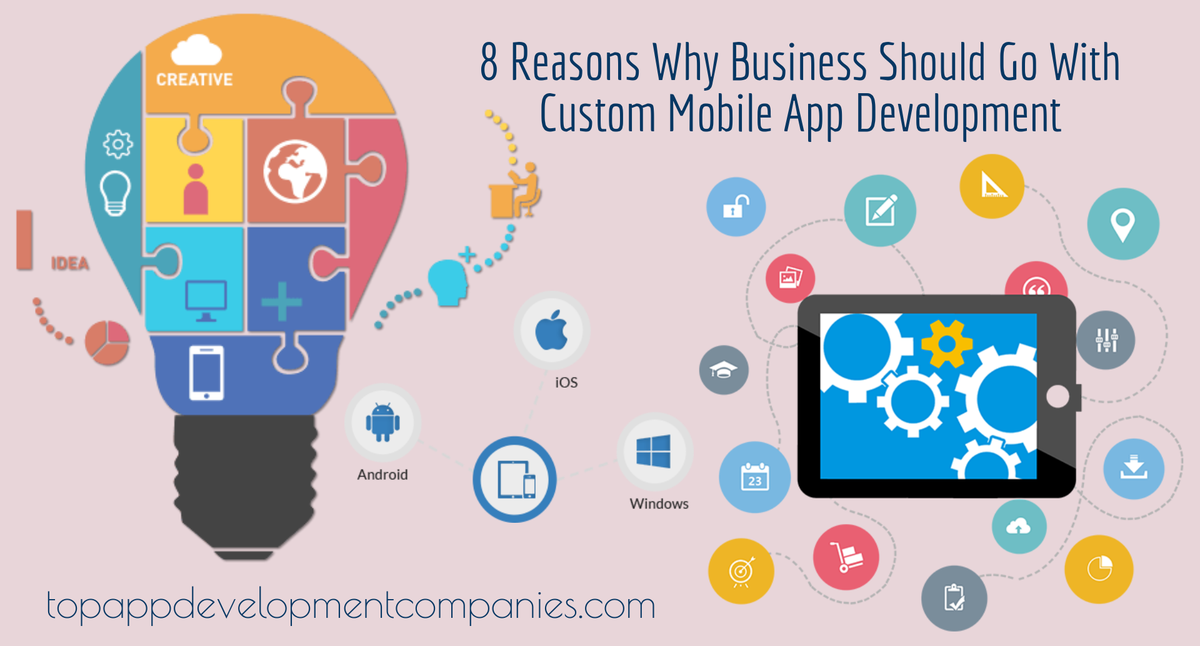 8 Reasons Why Business Should Go With Custom Mobile App Development
09-13-2016
---
According to the survey and analysis, a custom mobile app is one of the most preferred solutions for any business enterprise and is expected to grow by $62 billion till 2018. The majority of the business are turning their way towards customized mobile apps and the rest will be going to opt for the same alternative in the near future. About 30% of the business is reaping custom mobile advantages that have generated additional revenue for business.

Custom applications are developed to satisfy goals and objectives of any business. Though most of the mobile app development companies are moving their focal point towards consumer demand app development. They fail to realize that opportunities are also highlighted in an industrial zone like Healthcare, Hospitality, Hotel, Finance, Automobile, Real Estate and much more. These industries are targeting to develop custom based mobile app so as to engage more user base with their business. So, here are the top 8 reasons showcased by top app development companies why one should go with tailored mobile app solution.

1) Satisfies Business Oriented Needs:
Every business has different needs and requirements. The customized application is developed so that it accommodates all the needs and requirements as well operations of the application. It indirectly affects the ROI of the company, boost its overall revenue and helps employees to increase their productivity.

2) Real-time Access:
When the business has custom app of their company, it becomes easy to access the real time project. Important documents, files and other work-related documents are uploaded live. So, it becomes easy for employees to access the documents and work related information and give instant updates about a project to the client.

3) Easy Payment Procedure:
Today, most of the people are engaged with online payments via options like a debit card, credit card, paytm wallet etc. With the increasing trend of online payments, custom app development does provide payment options in smartphone device so that you do not forget any important sales.

4) Manage Customer Relationship:
As your loyal customers' data are stored inside your enterprise application, you should have brief details regarding your customers. These details can be used to send real-time notifications along with latest updates about your product and services to the customer. By this, you can have complete command on your app and ensures high user engagement with your app.

5) Feedback:
Satisfaction is the key factor that engages customers with your product or service. With custom mobile apps, you can add some kind of surveys and feedback form to know about detailed review regarding customer's opinion of your product/service. This will help you to find loopholes in your service and will help in the betterment of your quality service.

6) Extra Feature Benefits:
Custom mobile app leverages you in add and remove features. One can add some extra features like discount coupons, in-app coupons, scratch card etc useful for your products and services to avail some extra benefit.

7) Increase in Brand Recognition:
The tailored app is the best way to increase brand recognition each and every time when the user makes use of your app. Downloading your app will let user notify about the deals, offers, latest updates about your product and service to customers. Indirectly it's a boost in your brand recognition.

8) Provide Valuable Data:
By tracking customers' history benefits enterprise with data like their interest, trends, and needs of mobile application users. Such data indirectly helps enterprise to point out the area that needs to be augmented and where they are lagging behind.

Is custom mobile application is one of the most growing trends?
As we know 95% of the overall population have access to their smartphone on a daily basis. So it's necessary to develop a custom app that identifies your brand from a crowd. You need to be innovative enough to attract the large chunk of people against your competitors in your realm. So, are you interested in development of a custom mobile app for your business? If yes, then contact to best Indian app developer and explore your brand. Contact us now.
Back