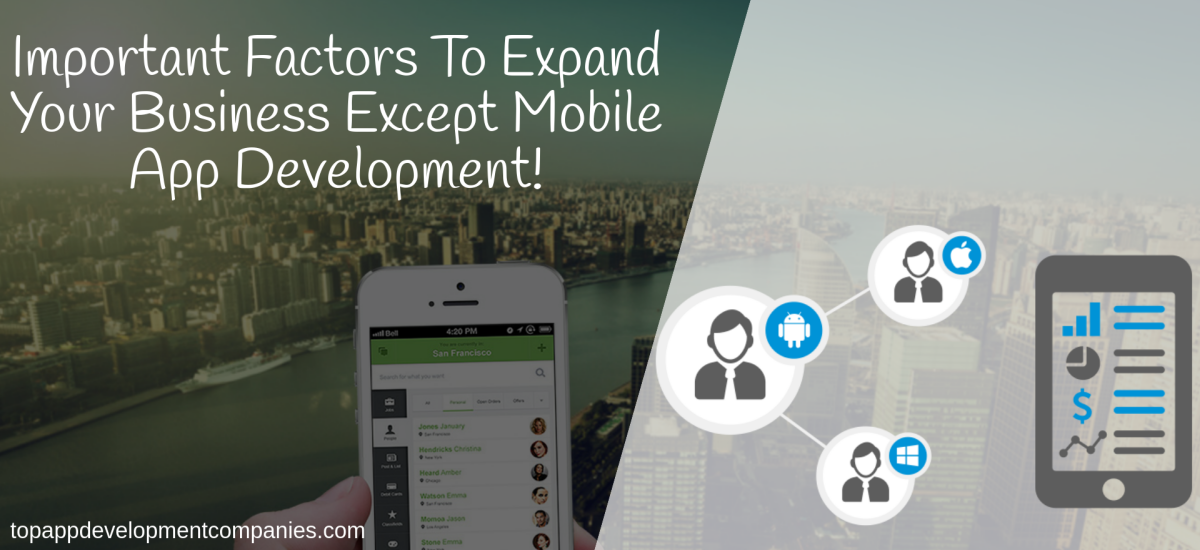 Important Factors To Expand Your Business Except Mobile App Development!
11-11-2016
---
In the age of technology, we see a bombarding growth in smartphone usage. Business is turning towards mobile app development. Majority conversions have taken place because of the mobile application. More and more startups and small scale business are planning to develop mobile apps for their business and the reason is: They see value in it. The mobile app is one of the best ways to showcase online presence of your business and to reach to millions of users. But the question here is how long will your business mobile app sustain in the app market? Is developing a mobile app is fair enough to drive your business towards success?

Yes, development of mobile app helps to augment your business till some extent. But, mobile app development is not the only scale that can help to uplift your business. We have noticed that around 30-40% expenditure by business and organization spends on mobile apps but still there are 50-60% of the businesses that have not set mobile app development as their topmost priority. App developers of top app development companies do develop amazing mobile apps but, having just a business app is not enough to drive your business on success paths. There are many factors that affect business growth.

What Factors Affect The Growth Of Your Business Other Than A Mobile App?

1. App Store Optimization:
It is the process in which mobile application are optimized to ensure higher rankings in search results of the app store. It is achieved by optimization of different factors inside your mobile apps. As per the stats, around 60% of the apps are recognized with the help of ASO search activity. If the ASO activity is done precisely, it will lead to the best visibility of brands and startups. Though a search of various products will definitely increase download rates but, it is not the only solution. You need to make regular updates withing your mobile app for best user experience.

2. Post-Development Upgradation:
There are numerous platforms that offer versatile applications to allure users. But, just deploying the mobile app in the app store is not the final ultimatum. You need to update your app at regular intervals in order to maintain your app sustainability amongst users. Every app needs constant updates in order to beat the competitors and to stand strong in the market. Updates can be in the form of features, improving performance, security updates etc. Users are about to discard your app from their device without any kind of updations in the product or services. Keeping a constant watch on users feedback and reviews and updating the app by resolving issues will help to update your app and to stay strong in the market.

3. Promotion and Marketing Activites:
Being a startup or newbie in the app market, you are encountered with marketing and promotional activities. Successful app development requires 80% marketing and 20% development skills. Various factors like PR, social media campaign, viral marketing, mobile marketing etc needs to undertake. Only app development is not enough. So, before beginning with app development, analyze and understand the mobile market for best results.

Simply development of the mobile app is not enough to drive business at success path. Instead, a lot more factors need to be undertaken. So, make sure you consider above factors for more ROI.
Back