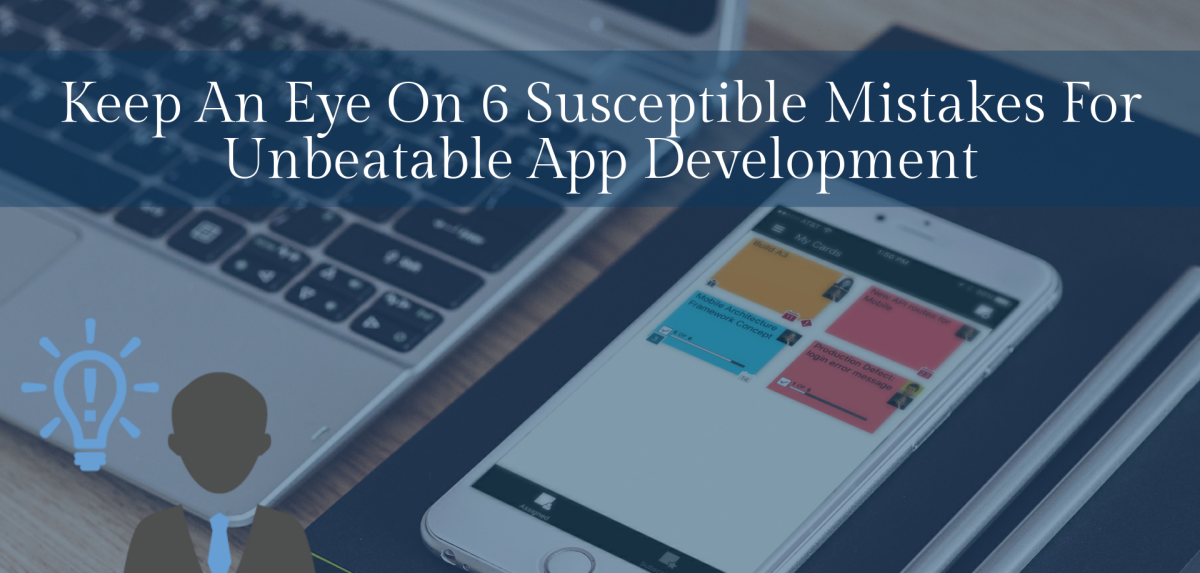 Keep An Eye On 6 Susceptible Mistakes For Unbeatable App Development
12-23-2016
---
If you have an amazing app idea, have enough cashflow then you are planning big to bring life into it by developing an amazing mobile app. Development of mobile application is not a bad idea especially in the world of mobility where our life is driven by mobile applications. "Just open that app and get your work done!" - This is the phrase we often listen from our friends, relatives, and acquaintances. Though mobile apps have become a part of our daily life still, during its development there are mistakes that are prone to be happened by the developer. So, if you have just stepped into development world, then this article is for you. Just understand the pointers exhibited by top app development companies that need to be avoided to develop a successful mobile app for your venture.

1. Developing Cross-Platform App:
Since there are millions of applications deployed in the app store, it's quite harsh to give them a severe competition. Keeping in mind development cost, if you develop cross-platform app then you need to consider all platform devices and OS specification that results in an increase in development cost and timeline. Instead, target app development on the single platform. Release MVP of an app that will help you to schedule further development process. Develop successful app on a single platform and then move ahead with next one.

2. Converting Web Pages Into Mobile Apps:
There are developers that co-relates mobile app development with existing web app and shrink those web page services and convert it into mobile apps. However, from browser page to mobile app, the entire journey is totally different. Mobile apps have much more capabilities that developers often forget to explore. Navigation flow, user interaction, and features of the mobile app are quite different as compared to the web app. Not exploring mobile features is a huge loss for developers.

3. Pay No Mind To Experience And Quality:
During app development, the first thing that needs to strike your mind is: What "wow" factors will attract more users to the app? There are apps in the market that failed to recognize its visibility among audience due to lack of quality and compromise with UX. Make sure that your app developer does not disregard quality and UX which are the key features that catch user attention.

4. Do Not Neglect API Existence:
Mobile app development is filled with a bunch of data types and data and that's where API comes into the scene. They are the programmatic lines of code that helps developers to split and access data along with developing the perfect app. They are like the boon to app developers that helps them to develop the best app in such competitive app market.

5. Fail To Plan Monetizations Strategy:
Do not think that once your app is built and deployed in the app store, people will simply pay and download it. You need to define a strong monetization strategy to reap more ROI from your app. Generally, the highest downloaded app is almost free and that's because of best app development and robust marketing strategy. So, just analyze popular app strategy and plan the best app strategy for your app.

6. Not Learning From Others:
Though you might be best at your work but you should never stop learning from others. If you have a full proof plan of your app then, analyze your competitor's app in your targeted fragment. Pen down their good works and implement in your app. Also, consider their loopholes and make sure to avoid that in your app during the release of the final product.

Though practice makes man perfect but understanding and avoiding loopholes makes them unbeatable. So, analyze your app and take steps to rectify it.
Back