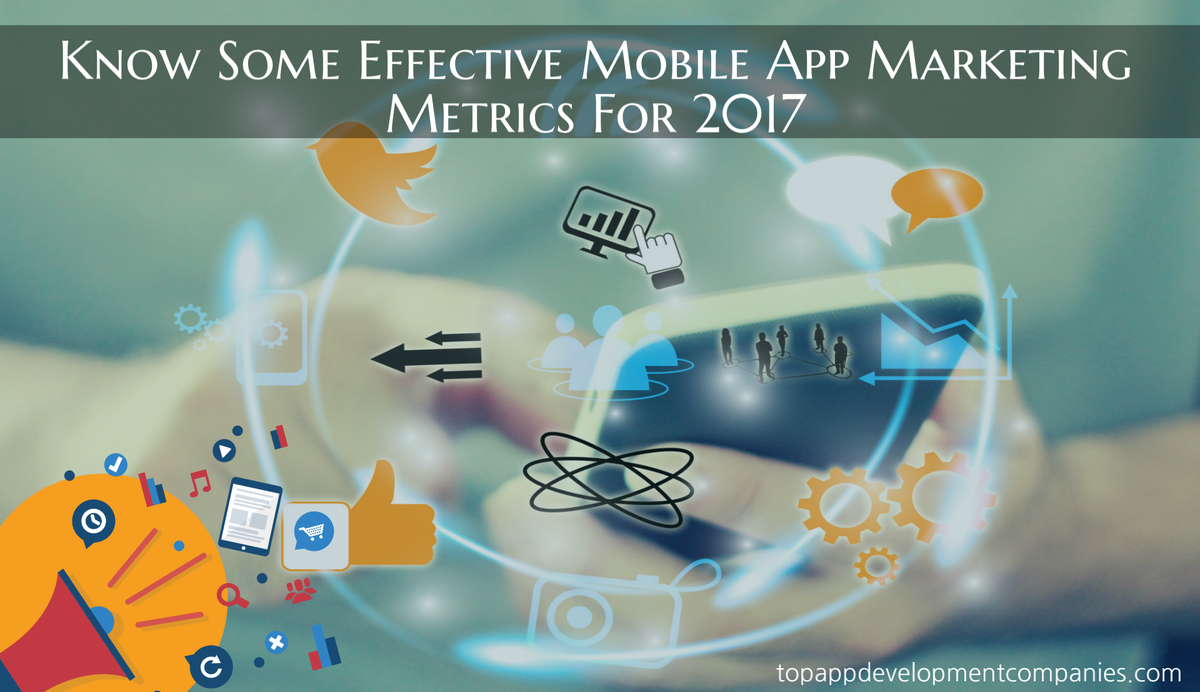 Know Some Effective Mobile App Marketing Metrics For 2017
11-05-2016
---
When it comes to mobile app marketing, it is very important to know the performance of your mobile application and how many users are pleased with the use of your smartphone app. Engagement of mobile app users is really very important in order to develop new versions of the app with some excellent features.

These Android and iOS mobile app metrics help app owners in many ways, it gives them proper information about mobile app users, how an app is used by the users, specific section in which users bounce back, a section that is not needed for a mobile app, mobile app speed & performance and much more. In some situations, it becomes necessary to track the user engagement, your app's performance, so you can find out flaws of your app.

Following 4 mobile app metrics that you should measure to improve your overall ROI for your iPhone or Android app.

1. Average Revenue Per User:
Average Revenue Per User is the entire amount of revenue provided by your active users. ARPU differs from App to App. ARPU is solved with the sum amount of phone app revenue made in specific time period divided by numbers of engaged users actively use your app at that particular time. Average Revenue per user is calculated on a monthly basis, but most of the mobile app owners and marketers take reports on the weekly or regular basis.

2. Engagement Metrics:
Engagement metrics essentially depends on 3 major factors like session length, session interval, and retention rate.
• Session length is for the time period between an application open & close. It provides you information about time spent by the user on your Android/iPhone application. The more users are involved with your mobile app the greater will be the session length.
• Session intervals for the time between the user's first session & the further session. It gives the information that how frequent your mobile app is used by users.
• Retention is measured as the percentage of users who return to your smartphone app based on their first visit.

If you want your app to be strong, then analysis of engagement mobile app marketing metrics is necessary & helpful in all possible ways.

3. Trust Ratio:
This method is very useful for the mobile app, you can utilize in-app review prompt for your mobile app users to ask them - Do you trust this mobile app? This prompt will have three options like I do, I don't and Cancel this prompt. This user trust ratio is the section of customers who clicked on "Yes I do" and trust the mobile app. This thing will be helpful to know how many consumers actually trust on your mobile application.

4. Uninstall Tracking Metric:
This metric is useful to estimate who uninstall your smartphone app and get them back to your mobile app. It gives you information about various users who uninstalls your mobile app, installs mobile app & daily activations to get perfect information for your app growth.

This uninstalls mobile metric gives you all information about your iPhone and Android app uninstalls and you can work on this metric to get your users back.

Ultimate Word
Measuring & improving for perfect mobile app marketing metrics is the key to keeps users engaged with your mobile apps. These successful mobile app marketing metrics helps everyone, top app development companies enhance revenue, user experience, and conversions for their mobile apps. If you follow these mobile app metrics, you will get high Return of Investment, also you can make your app successful. Contact us for the same.
Back