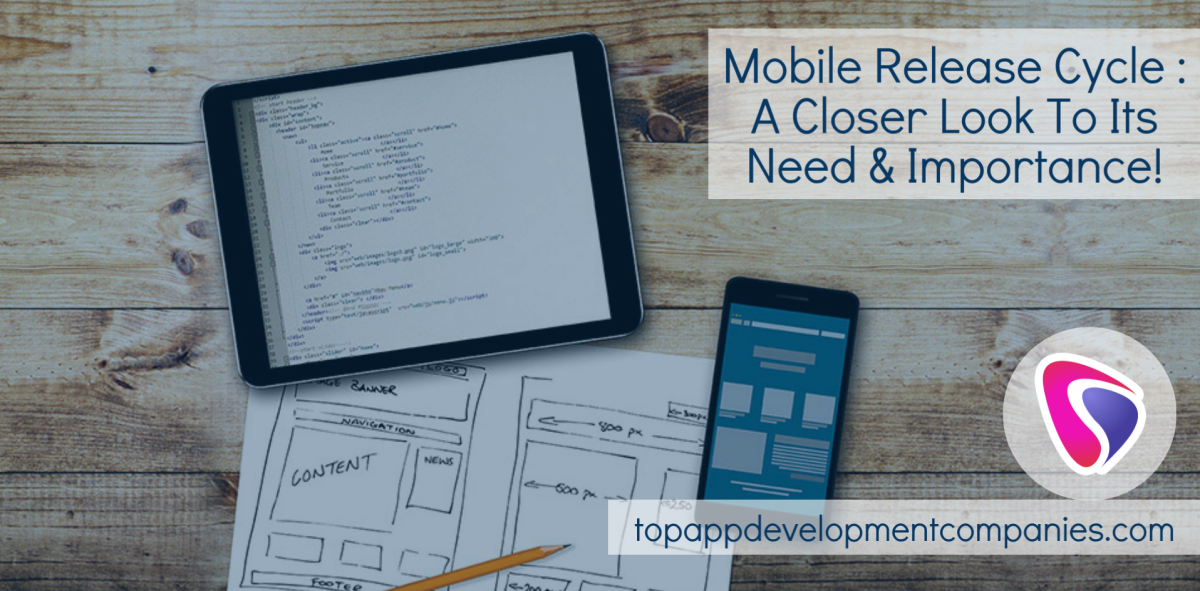 Mobile Release Cycle : A Closer Look To Its Need & Importance!
09-27-2016
---
Increasing mobile app usage is noticed in each and every field. Along with unusual innovation in technology by the developers that think out of the box, the mobile release cycle is getting shorter as the day passes. Applications are facing frequent updates so as to compete best in this highly competitive market. Updates are something that adds fuels to the application to boost up its employment. Many applications are updated at least once a month and it's quite usual for application to release an update every week or biweekly. But have you ever thought why you need such frequent updates in the application?

Why all these updates in first place?
There are numerous reasons that enforce developers to update their applications. The most common and regular updates are in the form of bug fixes & features enhancements. A good developer will listen to customers & update their applications on a regular basis to meet their user's demands. This is crucial if you want to stay competent amongst endless apps that available.

Here are some of the reasons why your app needs frequent updates:

1. App Store Ratings and Rankings:
Users' feedback can be excellent as well as brutal. If you release defective mobile application, you can surely consider the bunch of negative ratings and reviews. Even mistakes like failing to publish latest version information may lead to downvotes or fewer user ratings. Just keep in mind that bad and negative reviews always distort the app before it gets viral and can even threaten the well-established app rankings. An application with lower rankings effect download rates and less downloaded apps will eventually drop your app rankings. Mounting up you ranks back again in app-store takes much more than dropping off of the ranks. Whenever you see your app ranks dropping off from the play store then, just hold on and take the right step. Here is where short mobile releases cycle comes into the picture: Whenever you are ready to release your app in the app store then, you can implement quick fixes and release the updates with a small number of changes for less error opportunity.

2. Respond to User Behavior, Especially to Rejection:
After the application release in the app store, you need to track out how users interact with your application. With the help of usage analytics, you can determine if users are completing your entire application flow or not. If users are not completing then, find out the point from where your app flow is left to be completed until the end. If you find some module that is worth money making for your business and does not work then, you need to find out how a user interacts with your application and if any bug is found, fix it and instantly deliver a new version of the same.

3. Newer Mobile Device and OS Updates:
Today's market is highly innovative. Those innovations are introduced to us with the quick release of latest devices along with high ended configurations. Major updates in the operating system are also due to fierce competition found in the market. Though major releases are noticed in a month or two, but some minor and small releases are expected every frequent day without any warning. If your application is not compatible with the latest operating system and devices, then users will be disappointed. So, quick release latest updates in your app and make your users happy.

4. Testing New Features:
You have a new add-on in your app, but you are in the dilemma to release it or not. Though you do not want to risk user engagement with your app, but even you do not want to risk your application ranking. So, in such case, how can you test user response? There are two ways to perform testing of application: 1) Through Beta testing 2) Gradual exposure. In gradual exposure, you limit no of users to use that new feature. If everything goes smooth then, you can include that particular feature as an update in next release cycle. In A/B testing, you can release both versions simultaneously and then analyze the one that got the better response and set that version to release.

So, just deliver frequent updates to your mobile app and satisfy the hungry user appetite to make them enjoy something more than expected. Want to develop an app with amazing features? Then hire best app developer from high ranked top app development companies and explore more development opportunities for your business. Contact us now.
Back