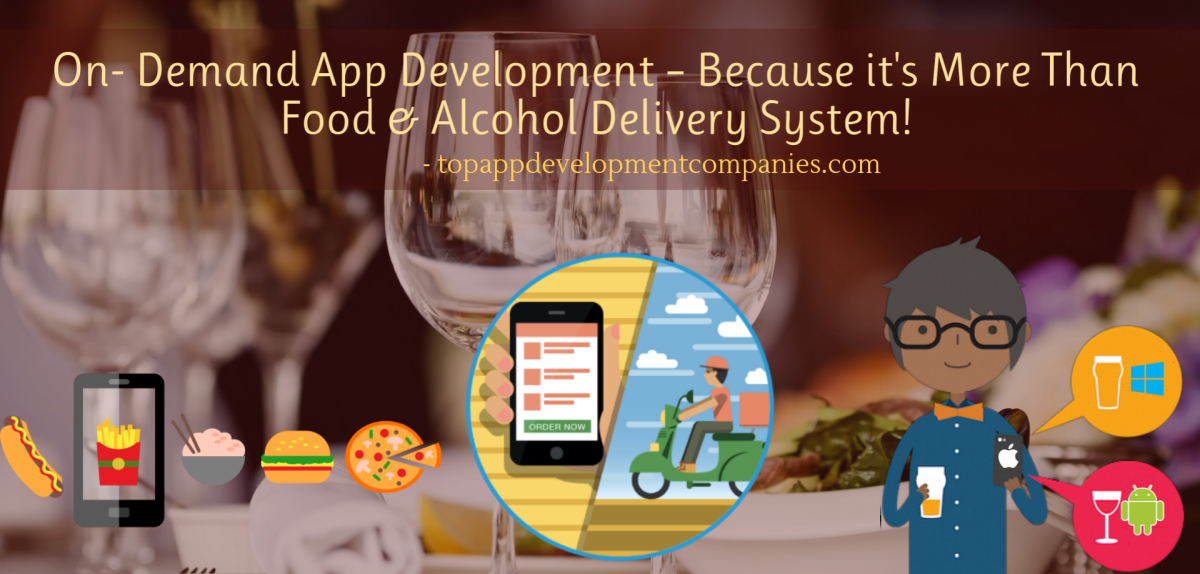 On-Demand App Development – Because It's More Than Food & Alcohol Delivery System!
11-17-2016
---
On-demand business models - A modern consumer approach that has overtaken traditional approach where people used to visit shops for their buyings. The on-demand app has allowed people to get delivered their ordered things at their specific location. The "on-demand" trend has reformed the channel through which business used to serve to their customers. Thanks to the evolution of startup apps like UBER and Airbnb that has re-shaped the economy of the world at the next level.

There is no doubt that on-demand economy does bring millions of business but, startups are simply trying to imitate the UBER concept, trying to bring change in other industry. The result we can see is "UBER X" commencement. Commencement of On-Demand Restaurant Company: Door dash - Stepping ahead in alcohol services in south-California along with the food services

Door Dash - A startup that successfully completed two years in the deliverance of food and meals from a local restaurant is now making a move to add something more with the food deliverance. Yes, and that's alcohol deliverance service. It is not the first move that door-dash has made out beyond its restaurant deliverance service, last year they tied up with the company named 7-Eleven to expand their horizons by delivering store products to its user base.

Now let's watch out how we can design modules, features, and working patterns to develop an app like that of door dash.

Modules:
We can have 3 Module Segments

1) Users
• The people that are food lover
• Corporate sector people that want to greet their team members
• People that lack cooking skills.

2) Restaurants
• Restaurants that wants to expand their business
• Food Joints that lacks sitting arrangement.

3) Drivers
• People that needs delivery boy having flexible timings
• People in need of a job.

Features
• It can hire its own drivers for food delivery
• Delivery charges may vary from $ 5- $10 depending on food order.
• Company commission can be kept nearer to 25%

How Does It Work?
1) Choose Your Order:
Here users can pick up their favorite food option from the array of restaurants that contains various menus for food. Using advanced features like search, nearby restrooms findings, category choices can aid users with betterment in choices.

2) Payment:
Users carry out transactions once the order is being placed. Then, the same order is forwarded to the corresponding restaurant where it is cooked and packed for delivery.

3) Order Tracking:
Once the order is accepted and picked up by a driver from the respective restaurant then, the order can be tracked so as to estimate the approximate time of deliverance.

4) Delivery:
Here the order is being delivered by the driver to the customer where the driver is handed some tip amount by the customer which it needs to keep it with itself.

Want To Develop An App Like Door-Dash?
Development of app is not an easy task, lots of things needs to be considered. successful app development requires expert development team having best on-demand app experience along with the adoption to accept the emerging marketing scenario. With the Increasing consumer's demand, millions of bucks have pumped into On-demand app development to help business to augment their presence among users. So, if you have any on-demand delivery app idea then hire one of the top mobile app development companies and bring it into existence.
Back