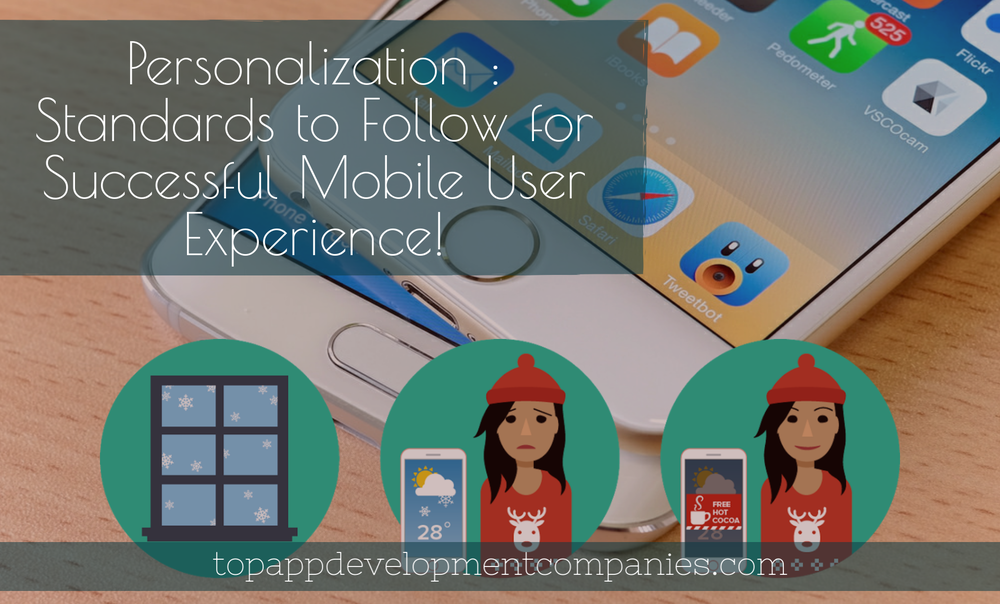 Personalization : Standards to Follow for Successful Mobile User Experience!
08-10-2016
---
Mobile apps have become so widespread today that it is next to impossible to imagine even a day without using applications. Users using versatile mobile app crave for a good UX and thus User Experience is one of an essential part of mobile applications.

The building of standout user experience may seem to be a dreadful task, but with a few personalization techniques, you would be able to rule over on your consumer's heart within no time and your application will stagger up the world around you. But what exactly is Personalization? Is it something weird? No, it's not. So just check out the term with top app development companies and explore your ideas of personalization with us.

What is personalization?
Let's assume that you went off to the pizza parlor to consume your favorite pizza and you ordered pizza with extra cheese and thickness dressed up entirely with hot oregano that gives you the pleasure of spice in your saliva. This is what you call personalization – Experiencing the change as per your demand. Similar is the case with mobile applications. Whenever you design any mobile app you need to customize the design as per the user's need and requirement. No doubt, it's a bit time-consuming process but it's not that hard that you think.

What you need to do is that just peep out what your user actually wants and dive in to create the app as per their statements. How can one create Personalized Mobile UX that draws users towards your app?

Here are fewer of the Elements or Keynotes you can consider to include it in your strategy for creating personalized UX Experience.

1) Fetching Data:
One of the best personalization approach is to make users fill up the questionnaire form that consists of fields like Name, Gender, Location etc. Make sure that the details to be filled out should not consist more of personal information. Though this step is now not that in use still, it does work.

2) Creation of Customized Content:
In order to create outstanding user Experience you need to be user-centric and should focus on user-based content and personalize it. Once done, you can categorize it in a way that the relevant content should appear when they perform Sign-in process.

3) Perform Testing:
At times, it is noticed that many applications become overpowered with personalization that blocks the growth of app. Therefore, one of the best approaches is to identify the features that suit best for users. The easiest way would be the removal of usability testing.

It has been estimated that about 50 million applications are being downloaded on a daily basis, amongst which only 5% of the applications are able to attract the market. Rest of the 95% mobile applications are declined within few downloaded days. Product managers of application based business make a huge amount of efforts and spend pretty good economy in order to make people download their application but, everything is based on first user experience. There is no shortcut to UX so it is up to you how you craft your app to get best out of it.
Back