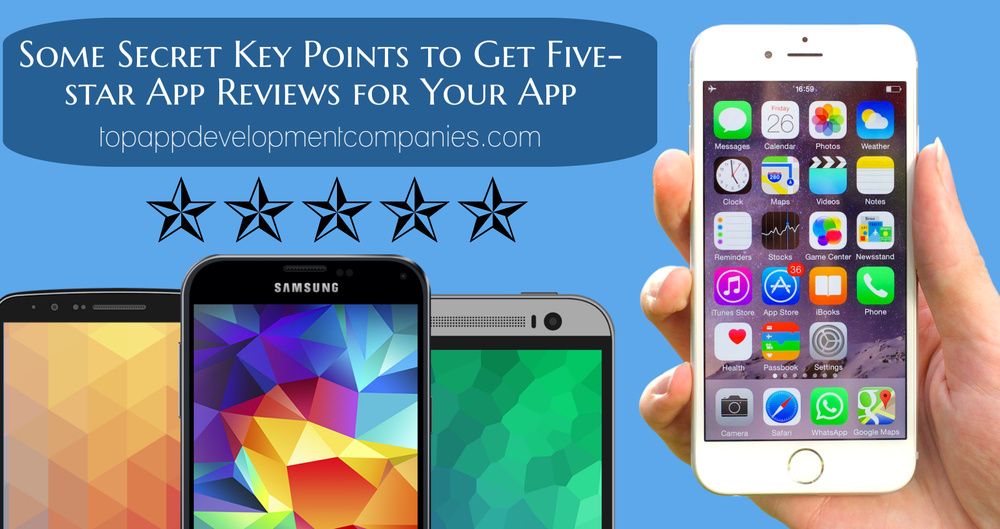 Some Secret Key Points to Get Five-star App Reviews For Your App
08-19-2016
---
Reviews & ratings are stairs for the applications to rise up in app store charts. When we look at the top 1000 apps in app store, most of them are at least 5 stars rated. Additionally, the app users prefer to download the application that ranks above in the app store. Yes, no matter how many likes the app has stored on Google or Facebook, but the reviews & ratings on the app store have more power user's mind.

There are many tactics the app owners use to bring an amazing success to their app.

1) Do not follow the trends! Engineer something that is out of the trend:
You know what is going on in the market & the type of applications taking hold of the user's attention. Quickly, you get an idea to develop some an app & monetize. Beware, less often, it works. You have to find out what people want & then think, if your unique app idea is usable & able create any difference in their lives or not. If it matches the user's undefined requirements and surpasses their beliefs, then gaining reviews in large number is simple.

2) Ask the user about app performance:
Surely, you promote the users to leave the feedback on social platforms and app store publicly. Alternatively, when you ask the users what problem they are facing or how is their experience with app privately by sending messages, email or by pop-up, the users would feel connected. Furthermore, if they are not delighted with the performance or the services they are getting, then they would explain the same in private. With this, your app would less likely gain negative reviews as users find messaging simple as compared to posting negative feedback.

3) Client support is the key:
Also, it makes you aware about what features your clients like the most that you should not change during the upgrade. Otherwise, the user would stop using your app or maybe uninstall the app & leave negative feedback, that will take your ratings southwards.

4) Review the reviews you are receiving:
The reviews posted on an app store or another social platform is the treasure that explains what users are thinking about your app. Also, do not ignore the negative reviews as these experts would help you in knowing where you are lacking that you have to analyze. It provides a clear picture of your app from start to end and helps you in choosing what things you want to give more importance next time. This may delight your client and you will get five-star reviews.

Remember! All-time, before downloading the app, users take a journey to your reviews and that will leave an indelible mark on their mind. 5-star reviews create a great impact and this impact would decrease as the stars in your reviews. Now, the secret recipe to get more 5 star reviews is shared! So, what you all require to does is follow the steps as suggested and enjoy benefits when your app top the charts.

Still, require some assistance. You can contact us. Top app development companies team would help you to optimize the existing app or for mobile app development that gives 5-star reviews & ratings.
Back