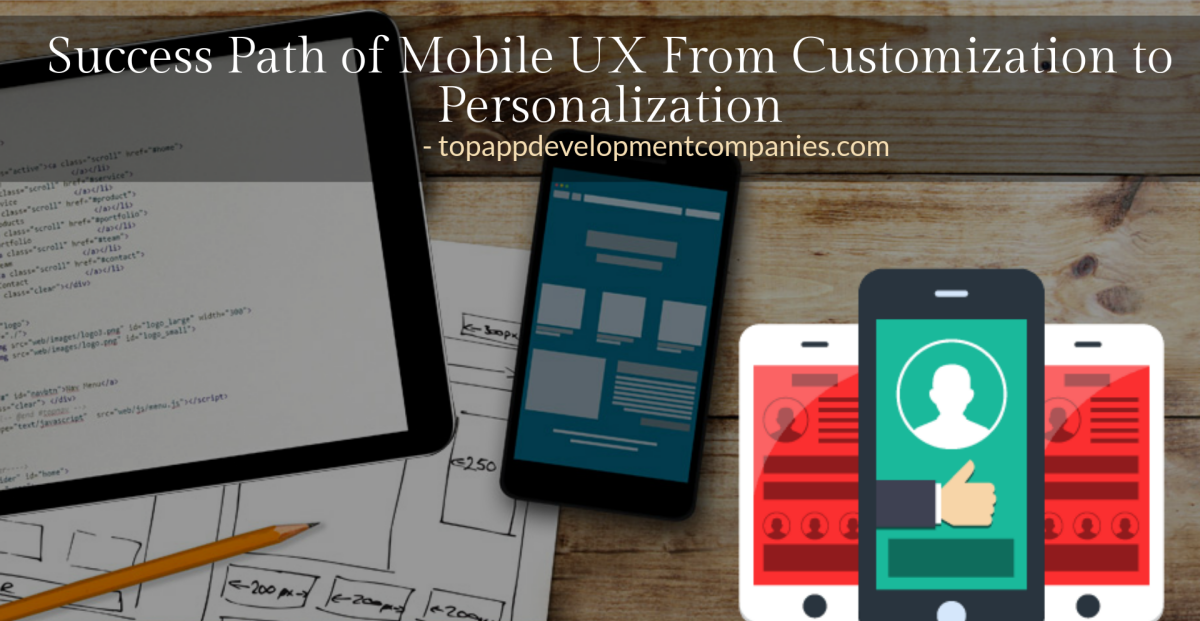 Success Path of Mobile Ux From Customization to Personalization
11-09-2016
---
Mobile applications have become so inevitable that it is nearly next to impossible to imagine a life without its existence. Our lives are surrounded by mobile apps. Right from having breakfast till going off to bed, we are encircled with mobile apps developed by top app development companies. But have you ever thought why people are stretched towards mobile applications? The answer is quite clear. Personalization, Problem Solving App, and Good User Experience are the three driving factors that turn more entities to make use of a mobile app.

Building awesome user experience may seem bit tough but, with few customization, you would be able to win hearts of people in no time. But wait! What's exactly personalization means? Is it something weird technique to be applied in an amazing app? Absolutely NOT. Let's take a roller coaster ride to get deep insight regarding how you can personalize your apps to get best out of it.

Why Switch to The Route of Personalization?
Leveraging users with the easy navigating mobile website will help them to hunt product and services that they want. They do not need to dive inside a bunch of content that sounds least interested to them. Providing such type of experience to the user will also benefit business in below ways.

1. Increase in Conversion Rates:
Personalizing user experience will allow website owners to allure the prospective and genuine users that are actually interested in their products and services rather than wasting time amongst those that are least bothered.

2. Increase in Revenue Generation:
Personalization will help you to allure prospective users that will help you to convert more ROI.

3. Increase in User Retention:
Personalization is one of the best marketing forms as it leverages you with more visitors that indirectly boost your company's customer base.

Journey From Customization to Personalization
Customization has become harder especially with the mobile device because of variation in screen size, and user interfaces. Interface designing concepts like scrollers, sliding screens, scalers, animation effects has become challenging. Going beyond colors, button size, fonts is not something that is working enough. A change in thought pattern needs to be made and that is something that has given birth to personalization. For instance: Shopclues.

They know a lot more about their customers from their purchasing history and by tracking out their activities and gestures. So, they are able to offer customized deals, offers and discounts on their favorite things. This personalization from the very beginning has helped them to sit on king throne as far as E-commerce is concerned.

Rules To Be Followed For Personalizing Mobile Ux

1. Personalized Contents:
The Primary step to create an experience that is personalized is bifurcating your visitors into groups so that the application will showcase users with content that is highly relevant to them.

2.Personalized Recommendations:
You need to recommend users with the items based on its information like location, taste and also on basis of its purchase history. Eg: Person in Shimla would be offered winter coat rather than a person residing in surat.

3. Push- Notification:
Allow users with an option to enable push notification that will notify them of the best & hot deals and discounts in nearby stores. One of the best option to conduct promotional activity based on their past history.

Personalizing mobile experience requires changes in many areas. Look at the activities you conduct, track your user engagement and derive a strategy for best results.
Back