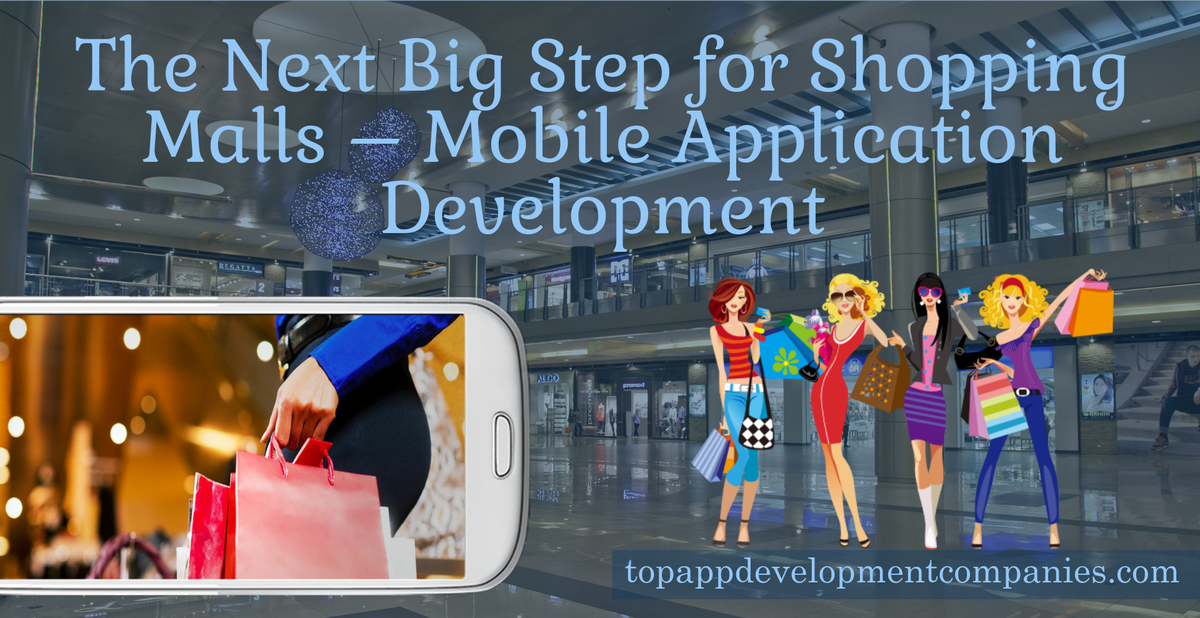 The Next Big Step for Shopping Malls – Mobile Application Development
09-16-2016
---
If you are tired of roaming in a shopping mall for the things you want to buy, then you should experience application of specific shopping mall you visit. Want to know something more about shopping mall apps in brief, then you have to deep drive in this information which analyzed by top app development companies.

The growing mall culture in the India is a picture of transforming lifestyles associated to globe. There are lots of malls already trying to attract customers and retailers too. So what does indicate this situation for mall owners? Because of the growing competition, it is not necessary to all malls attracting the footstep, which may have been actually perceived when the project was imagined.

It is clear that the current mall owner and those people who try to set up a mall then, they will have to examine both challenges to be ready to build a livable model that is both terms short and long. "Short term" is little bit crucial for the mall owners and also that retailer to have a great cash as well as it's necessary to keep them going. "Long term" is especially essential for the mall owner to improve the best cost caught on the project improvement.

Active customer involvement is the thing to decrease both challenges to create a great business model of the mall. Obviously, today's people is spending most time on mobile devices. For this, the best way to connect with customers is on their platform - Mobile Devices.

So the question is that, what interface is for the customer and the various services being applied?
- It's MOBILE APP for the shopping mall.

Give customers a more effective way to find the products they want with a mobile app of your mall! Help your markets maximize their income possible! A shopping mall app is definitely to help the mall owner and also its residents interest greater way and more important to engage their customers in the long way.

Obviously, a shopping mall can offer free Wi-Fi zone as well as assists visitor to download their shopping mobile app while they being welcomed in the mall. Any visitor can be done with some special suggestion or a discount card to download the Mobile App.

Know Some Popular Features For Shopping Mobile App:
1) Interactive Mall Map:
Interactive mall map allow users to search, zoom and easily find stores, parking, restaurant, game zone, theater and much more. The mobile app's map provides multilevel mapping system for big malls.

2) Mall Directory:
Provide your visitors with a fast and efficient way to search for their preferred stores, restaurants and parking. The directory is viewable in a map, list and definite forms, where users can obtain information like location, images and Phone numbers.

3) Schedule of Mall Sales and Events:
Advertise your mall's sale and schedule event with app streaming events support. Shoppers will have the facility to see upcoming sales & events directly in mall app. The best part is that specific event in their individualized favorites list and gets notifications linked to the event.

4) Analytics:
You can learn further about your customers. Observe your shoppers' in-app activity covering, download statistics, page views, keyword searches and more. Find valuable information about your visitor's shopping experience at your shopping mall.

Know Some Best Advantages For Shopping Mall:
1) Shopper Advantages of Mall Applications
With a custom mobile mall app produced, you can find your favorite stores with only push of a button. Always stay attached with your local mall's newest sales, news and information.
• Improve your mall navigation experience with unique maps.
• Find stores, restaurants, franchises and much more with mall app search directory.
• Can view sales, news and events.
• Connect with social media.
• Operate detailed store information.

2) Store Advantages of Mall Apps
Advertise your store's information, secure customer traffic and post further sales or deals going on in your store, all in the app of your mall. Maximize your income possible and keep your customers notified at all times. Everything can be done with a mall application.
• Maps to direct customers to your store.
• RSS serves to advertise sales, news and events.
• Detailed store can posts contact and website information.

3) Management Advantages of Mall Apps
It Helps stores to get their maximum possible income. Give customers a simple and more efficient way to shop. Direct people to the proper mall franchises and mall services. You can get all this and also much more with a custom mobile application for malls.
• Maps to improve your mall navigation experience
• Advertise your mall's newest sales, news and events
• Increase further advertisement income with in-app sponsorship chances.

So many features are in the Mobile App to secure the customer and an excellent shopping experience. The result of an awesome experience is increased customer engagement that requires the customer to revisit and experience the same joy in each visit at the shopping mall. Contact us for the further information regarding shoppng mall app development.
Back