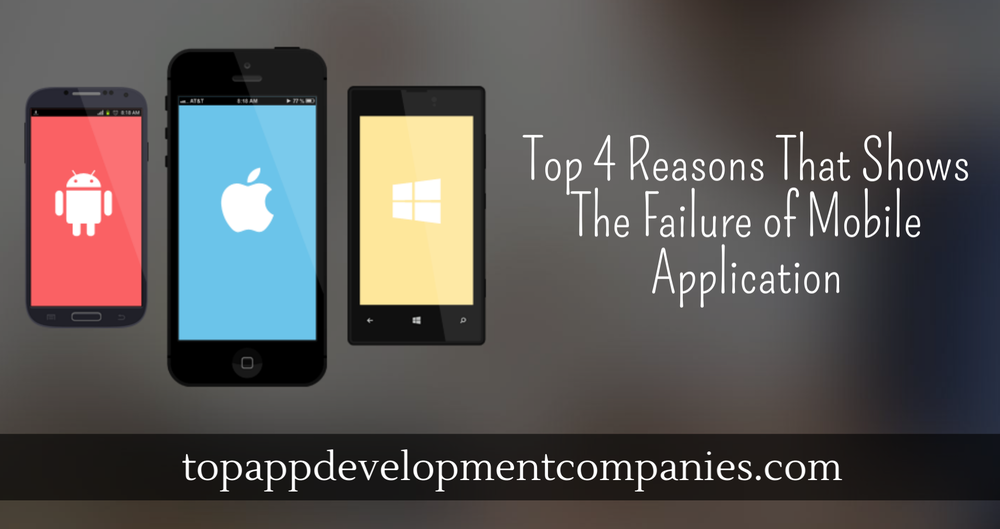 Top 4 Reasons That Shows The Failure of Mobile Application
07-07-2016
---
They Say "success is always followed by the failure". But is it so? Does this really matter when building a mobile app? You just not only harvest your time and intellect in app development. But also invest handsome amount in the entire development cycle. When things went wrong in the app development process, it not only creates bad impact on your potential customers but also screw up your company Image. Many organizations look up for the road map to get the in-depth of challenges involved during app development process and testing. So are you one of those? If yes, then you have stepped at the right junction. Here, Hyperlink Infosystem will make you aware with the mistakes commonly made during the mobile app development and along with the fixes to avoid the same.
1. Poorly researched or not researched at all
There are certain aspects to be considered for mobile app development, which needs to scrutinized well and if it's not researched well does not outcome into great application into practice which in-turns leads to mobile app failure. So ask these questions before you go for any mobile app development:
• Is your app needed in the market ?
• Will your app be a solution for the people?
• Why would people like to use your app?
• What is the difference between yours and the competitor app that adds quality to your app?
• Which are the potential audience targeted for your app?
So, these are the things you need to startup with which will help you to get your app concept clear and avoid bulk of mistakes.
2. Development of an app without keeping platform difference into consideration
There is one major blot that you might forget to notice during mobile app development. It's about overlooking platform differences.
The Mobile platform includes Android and iOS which have their distinct features and have their own guidelines. They function in their native way in accordance to their development architecture.
Let's consider Android Devices.
It has back button inbuilt while apple does not have back button concept. In such scenarios, failing to define platform specific protocols may highly impact User Experience. Thus, keeping into consideration platform differences are crucial during app development for multiple device.
3. Poor User Experience
Are you aware with the fact that most of the apps are uninstalled due to lack of User Experience? Yes, it's true. If User is not satisfied with the application, they would uninstall it from their mobile within no time. Basically, What poor User Experience Means is Poor app design. If user is not able to perform basic and common operations, it would lead to app failure as user will quickly switch over to the alternative. Following below may be the reasons for the application failure:
• High load time
• Performance issue
• Complexity in app access
Make sure that your application is tested under healthy environment that would save you from the below bugs.
4. Avoiding Proper app testing
Avoiding testing of mobile app is one of the huge mistake one could ever make. If your app is not tested under suitable conditions than, only a single crash is enough for the user to uninstall the application from their device. Exploitation of bugs results in degraded User Experience that restrict user to continue with the app. So, just make sure that you conduct all the testing and test each module unit wise for better results.
As customer are gems of the business and so it is the duty of Hyperlink infosystem which stands as the best offshore company amongst all the top app development companies to identify the loopholes before commencement of mobile app development. So, if you want us to make your technology partner then drop us your quote and contact us to know more.
Back