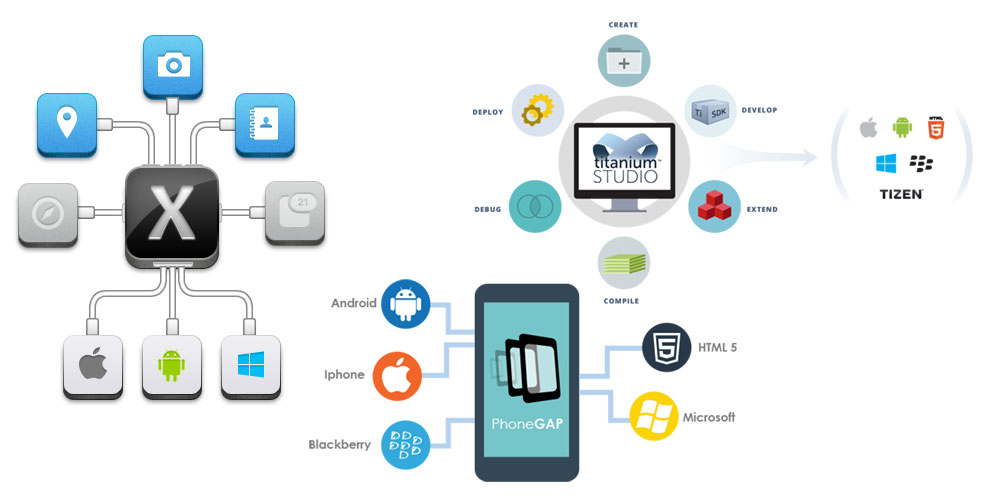 Which is the best framework to be chosen for cross- platform app development?
03-01-2016
---
With an focus to be standout as an competitive app development company in a market , top app development companies are focusing to deliver apps on all the three major platforms available in the market i.e Android, iOS, and Windows. If you wanna exist in the development sector you need to have flexibility to develop apps in these 3 major app development platforms.
However speedy development and cost-efficient in native app development does not make mind and in such cases its highly suggested to follow "code once and run everywhere" with cross-platform development as it allows you to run your codes on multiple platforms available.
But, when it comes to cross -platform development then the most popular framework that would blink in a techs mind is Xamarin, PhoneGap and Titanium . Though all these framework are a solutions for development of an app that functions on multiple platforms but all of these are highlighted with their own technical and business differences.
So , now which framework to be adopted for development that is highly beneficial to you in terms of requirements, technical support , implementation ?
Lets dive into all these 3 frameworks to dig out the best pearl in form of framework that satisfies our requirements.
PHONEGAP
PhoneGap is a collection of web pages that are rendered as web view and to develop app in phonegap one needs to have knowledge regarding CSS, HTML and Javascript.
It's an open source framework that allows you to create mobile app using Web API .
It wrappers up an web app in an native app and implementing same on a native stores in different platforms.
It uses Service called "Build " that is cloud based used to compile apps for some OS and thus eliminating need to install SDK for specific platform.
MERITS
1) Easy porting of app into versatile platform.
2) Supports Re-usability as anything written as webpage can be easily wrapped up in an native app.
3) Support Various platforms and OS that includes:
Windows Phone 8 ,Ubuntu, Android, Blackberry, Firefox OS and iOS.
DE-MERITS
1) UI of web depends on rendered Web view.
2) Low performance as the code remains the same and is rendered through web browser.
TITANIUM
It's a javascript based development platform that uses javascript app codes with native API and UX Conventions.
Titanium is more complex as compared with Xamarin and PhoneGap as one needs to learn UI Api which is platform specific and more of the above also needs to learn Javascript.
It Supports only iOS and Android on current basis.
MERITS
1) Faster and easy development using Javascript
2) Look & Feel is much richer as compared to app developed on other platforms.
3) Renders better performance due to native API support.
DE-MERITS
1) No 3rd party libraries support
2) As it does not support CSS & HTML animation is difficult and less responsive.
3) Difficult to develop complex applications.
XAMARIN
Here native apps are developed using C# with .NET framework using native API & UI that are platform specific.
Xamarin.Form libraries permits you to frame native UI and convert it into platform specific UI that gives rise to the concept of code re-usability.
Now it supports Android , iOS and windows and also now also supports apps for blackberry by compiling android app.
MERITS
1) Code Re-usability
2) Usage of Test-cloud for testing apps that are cloud based.
3) Pattern support for MVC and MVVM.
DE-MERITS
1) Increased load time as it uses its own runtime.
2) Lack of support of Xamarin code outside environment
3) Does not permit access to Android UI controls.
Let's compare these three Framework bit deep Insight
From the above comparison, it's clear and cut that all frameworks have equal share of their importance and are equally needed in mobile landscape.
As a company you should select the one that brings out the purpose of your solution. If you want to have instant quote for your requirement then Hyperlink Infosystem is the correct door step to begin with. Drop your mail and get a free quote .
Back