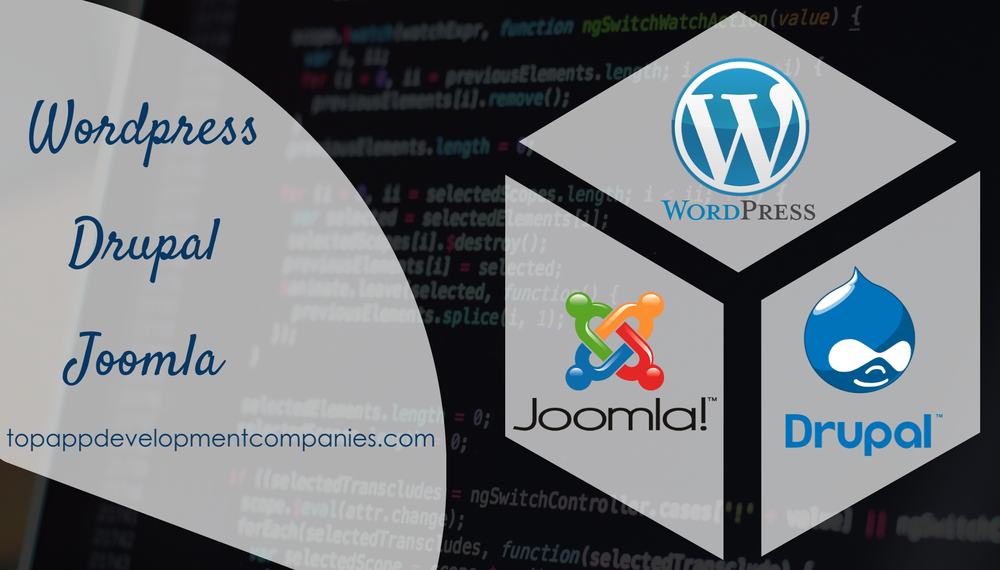 WordPress v/s Drupal v/s Joomla : Which CMS Will Run The Show?
07-02-2016
---
While Wordpress Web Development that powers 23-25% of the Open source websites, there are still other frameworks in the market which are in the race. Though popularity of WordPress is quite alluring but the other CMS options like drupal and Joomla are not far behind. There are some ordinary things in all three of them but still, each one has their own gains and damages. Let's watch out which one is the best amongst three of them to be used as CMS.
What's the Common base between : WordPress , Drupal and Joomla
All the three popular and engaging CMS has lots of stuff common amongst them. Below list will state you the similar pick ups between the three:
1) All three CMS (i.e. WordPress, Joomla and Drupal) are Open source CMS Software licensed under GPL.
2) All the three are coded in PHP language.
3) All the three CMS support MySQL as their Database system. Though WordPress particularly supports MySQL but, Joomla and Drupal also support other DB.
4) All the 3 CMS make use of Themes, Templates, plugins, various modules for extension of feature set in website.
So now, we are aware with the similarities. Let's compare all of three to come out with the best option.
i) Ease of Use and newbies friendly:
WordPress
WordPress takes only couple of minutes to get installed as most of the hosting provider offers single click WordPress install. This makes it quite easy for freshers to get started with their first new website. Post install user experience is quite richer of WordPress as compared to Drupal and Joomla.
Joomla
Though Joomla installation seems to be bit tricky but the steps are quite similar to WordPress. After installation, users are redirected to control panel that is filled with numerous menus to be clicked to customize site in your way and preference.
Drupal
Drupal is quite same as wordpress and Joomla. Just download the package and run the script that's it. Pre-packed drupal bundles are also available along with various modules & configurations for development of specific kind of website. Post installation of Drupal is complicated especially for freshers/beginners when compared to Joomla and WordPress.
Ultimate Winner : WordPress
ii) Themes and Add-on
WordPress
It allows users to change their site appearance with the help of themes. WordPress do come with default installed themes and you can install more themes by going to WordPress site. Besides from free themes you can also install third party themes by paying them.
Joomla
Joomla also have templates and extension similar to WordPress. It has extensions that can handle E-commerce site as well can manage email. As compared to WordPress Joomla does not possess feature that allow to search or install extensions from Admin area. If you want to install templates users have to manually search for the templates and then by adding URL can install them.
Drupal
It also face the same issue like that of Joomla. Here user needs to tab their site and then search out for the particular modules and themes that they wish to add up into their website.
Ultimate Winner : WordPress
iii) support Options
WordPress
It consist of strong user community. You can find the help in online Forums, ShoutMeloud, WP Beginner etc.
Joomla
Joomla also have same strong community but the expert help can prove to be quite costly as compared to WordPress.
Drupal
It is also quite similar to WordPress and you can get help from online forums and communities.
Ultimate winner : WordPress
iv) Localization and Multi -language Support
As all the three CMS platform i.e WordPress, Joomla and Drupal support Localization and Multiple language platform all the 3 CMS are equally successful as far as localization and language support is concerned.
Ultimate winner : Tie between three
v) Security Standards
As expected security standard and rules are followed by all the three CMS platform ranking a single platform for excellence is difficult.
Ultimate winner : Tie between three
To Conclude:
Drupal, Joomla and WordPress are all amazing CMS to be relied on. Drupal and Joomla are way better in built-in features compared to WordPress. However, WordPress development defeats them with its easy usage, huge universal community, as well with themes and plugins.
Back