State of the App Development Industry In 2020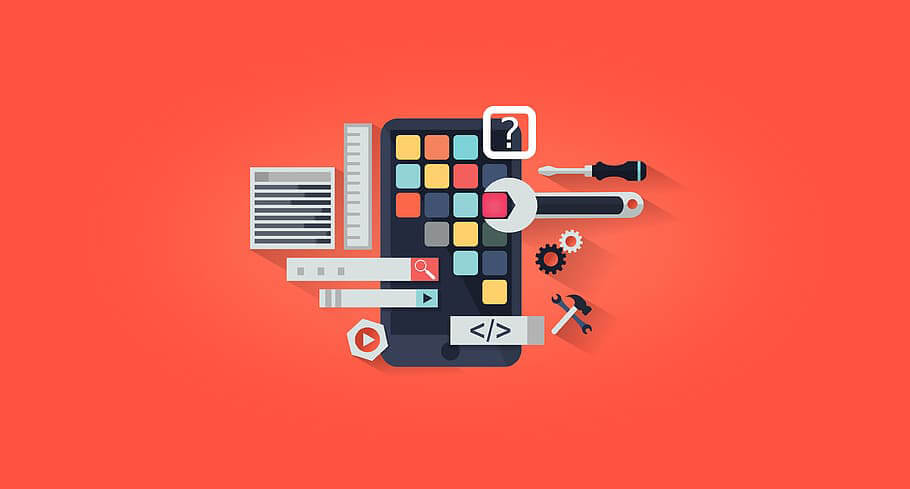 Despite the overwhelming complexity of the coronavirus epidemic we all face, now would be the best time to start searching for opportunities to build on in the app development industry. Not many other sectors are lucky enough to be in a position to say the same.
The coronavirus spread has already had a big effect on the mobile application sector and this will only intensity in the coming years. According to a recent five-year forecast by Sensor Tower, a significant rise in application downloads for sectors such as education and remote working would lead to a significant growth in app installations for early 2020 and beyond. This will happen in spite of the continued decline in downloads for fast food and ride-sharing applications.
The survey also predicts that there will be minimal impact of COVID-19 on in-app purchases. It is estimated that the global user expenditure on mobile applications and services will only decline slightly in 2020 as a result of COVID-19-induced reduced buying power. This is in contrast to the predictions made when the pandemic first surfaced. Following is an illustration of this: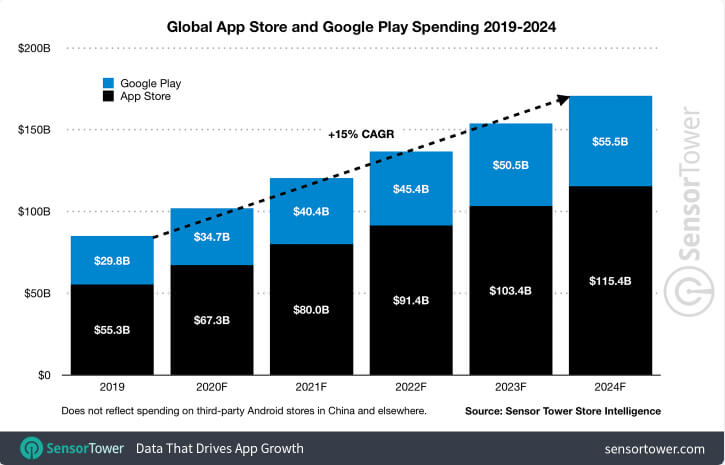 Google App Store and Google Play Spending during Forecast period 2019-2024
[Image source]
---
The Opportunities in the Mobile App Industry Post COVID-19
Many of the mobile app prospects that emerged in this crisis depend on how the shutdowns due to COVID-19 influenced the actions of mobile users. After all, it isn't just an isolated phenomenon with negligible impact, but more of a widespread pattern that was the natural consequence of the prolonged lockdown measures that were put up and which are being enforced continuously by virtually every major country in the world.
Despite the above, a myriad of opportunities have come about as a result of the coronavirus pandemic. These opportunities have surfaced and are evident in various subfields within the mobile application industry. Each one of them is illustrated here to demonstrate to you that there are still many positive things to forward to in the app development industry, even in the midst of a situation as serious as this pandemic.
For example, the rise in the usage of business apps that allow workers to work from home and perform their job remotely shows how such apps can resolve COVID-19-related work-setup concerns. This is just one example of the many opportunities created for the mobile app industry in the different sectors by the coronavirus pandemic. The following are some other examples of the opportunities created for app development by COVID-19.
1. Education Industry
With schools and colleges shut, it is clearly time to liven up online learning. There are already several requests for learning to be conducted entirely online to help teachers and students deal with the enormous disturbance the pandemic has created for educational institutes, their staff, and students. This demands stronger, more advanced ways for instructors to efficiently educate their students while ensuring that they are still active and involved.
It isn't just about the traditional classroom environment. Most people are searching for new knowledge that can help them deal with this situation or even keep them alive. The continuous growth of educational app installations is strong evidence of that. There is no doubt about the demand for mobile applications in the education industry today. The question is, how many app development companies are ready and equipped to satisfy these demands? We are yet to find the answers.
2. Healthcare Industry
The increase in demand for healthcare apps should possibly be treated as a no-brainer as the coronavirus pandemic is primarily a healthcare problem. Wellness and fitness-centered apps enjoyed a noticeable rise in demand, and rightly so. This is because the coronavirus seems to have higher death rates in people with obesity or overall physical health problems.
There are healthcare applications that are promptly sharing tips on health protection steps you should take to avoid infection. Given that there is still much to be learned about the disease and knowledge to be disseminated, app developers that make the first move to do one or both of these things would definitely bring great value to people all over the world and in doing so, grow significantly. Chatbots have already been built to help distribute and address questions about COVID-19 related knowledge to the public. Developers should feel free to add their own variations of this or modify what's proven to be successful.
3. Social Networking
Social media apps were always platforms that enriched people's social lives and helped them to reach out to anyone they wanted to get in touch with. Today, apps for social networking are helping people in dealing with social isolation and the inability to hang out with friends, talk in person, or perform activities as a group that are not practically feasible under the current situation of COVID-19.
So, how does the COVID-19 situation create opportunities for app development in social networking? Firstly, developers can begin to incorporate features in their applications that will enable people to exchange details about coronavirus conveniently. On the other hand, doing the exact opposite thing of delivering an escape from the virus reality would inevitably prove just as successful. In brief, in this subfield, there are certainly plenty of concepts to build upon.
4. Delivery Industry
With social isolation in effect and the majority of people being told to stay at home, the significance of delivery apps is increasingly evident in the number of consumers that have started to use these applications to buy essential food and grocery products through their phones.
Spikes in installations of delivery applications have been reported after the coronavirus pandemic first surfaced. For example, in February alone, Instacart reportedly experienced a 51 percent increase in installations. In combination with other apps, the rise in installations is actually over 100%. It is a very noteworthy development, as in the future it may well become the standard – if not already – so you can only assume the tremendous momentum this would generate if more stringent lockdown measures are put in place in the coming months.
Considering the expected long run of the coronavirus pandemic, corporations and businesses, large and small, will eventually start to collaborate with delivery businesses, creating tremendous opportunities in this field for application development.
5. Entertainment Industry
Entertainment is a one obvious and relatively effective tool to conquer anxiety and keep one from being frustrated by fear. Entertainment apps have seen an increase in usage from the instant the pandemic began to claim more territory globally. After all, these apps help to kill time, which many people have a lot off at their disposal, particularly the youth, while in lockdown.
There is a growing user base that is turning to music-related media applications as well as channels that offer unique video services such as Netflix to pass their time during lockdown. With this in mind, it is no longer a matter of why, but rather when, one should start developing entertainment applications. The longer the lockdowns continues, the more people will look for newer entertainment apps. Considering this now is probably the best time to invest in mobile application development or start developing entertainment-based mobile apps.
---
The Impact of COVID-19 on the Revenue of App Store
The report by Sensor Tower has forecasted the revenues of app stores, along with the spending in these platforms, during the period 2019-2024. Global user spending on mobile applications is forecasted to grow to $171billion by 2024, which is twice as much as the revenue in 2019. Following is an illustration of this:
Global App Store and Google Play Revenue and User Spending During Forecast Period 2019-2024
[Image source]
Although the revenue in app stores is expected to grow over the next few years to reach $171 billion by 2024, this figure is around $3 billion (or two per cent) lower than Sensor Tower's estimates, which they reported before the outbreak of the coronavirus pandemic.
Nevertheless, it's noteworthy that even the slowest-growing areas on both Google Play and Apple's app store will see income greater than their 2019 levels by 2024, which will be as high as 80 per cent.
The app stores are also expected to reach multiple benchmarks in the next 5 years. For example, worldwide mobile app expenditure will, for the first time, reach $100 billion in 2020, increasing at about twenty percent year-over-year to reach $102 billion.
Astonishingly, the report also forecasts that non-game mobile device income is projected to exceed that of mobile games by 2024 for the very first time, fuelled by the surge in downloads — especially music, entertainment, lifestyle, and social networking application downloads.
Spending on digital games would growth to $97.8 billion by this period, or about 41 per cent of overall gaming spending. With $57 billion in video game sales in 2024 against $41 billion in Google Play, the App Store will account for a substantial portion of that investment.
---
The Impact of COVID-19 on App Downloads
The forecast expects a permanent boost from coronavirus impacts in regards to application downloads. Downloads are expected to grow to 183.7 billion by 2024, an increase of nine percent from the pre-coronavirus estimates that reported seven billion less installations. Most of this growth in downloads is expected to occur this year, with first-time application downloads expected to grow to 140.3 billion, increasing by 22 per cent from 2019. Following is an illustration of this: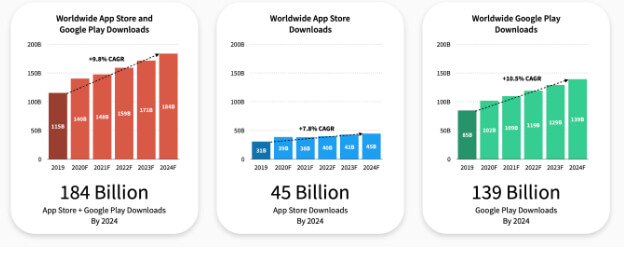 Global App Store and Google Play Downloads during forecast period 2019-2024
[Image source]
Besides the growth in non-game applications—such as remote working, delivery services, and education applications—downloads of smartphone games will increase by thirty percent in 2020 to reach 56.2 billion, which is much higher than the 10.4 percent increase experienced during 2018-2019. Mobile games are expected to account for more than forty percent of all new installations by 2024, being 74.8 billion downloads in total.
If early signs after the pandemic are anything to go by, then China will see a huge rise in downloads, especially in the segments of education and games. This comes after a decline in sales over the past few years, owing to state regulatory policies, such as freezing games licensing.
This year, the United States will also see a similar increase in downloads as a result of the coronavirus pandemic. This would lead to a surge in downloads by twenty seven per cent during 2020. However, the growth will stabilize in this market by 2021 and in the following years, there will be about seven percent growth per annum from 2021 to 2024.
Download growth is expected to slow down Brazil and India during the predicted period as the marketplaces become more populated, while increasing in Latin America ( increasing by fifty-eight percent) and Asian countries besides China (increasing by eighty-two percent).
Another significant landmark will occur in 2022, when the United States starts moving ahead of China in regards to downloads from the App Store to reach the summit. In recent times, the US has shortened the gap between itself and China, from three and a half billion in 2017 to just over one billion in 2019. It will aim to bridge the gap further between 2020 and 2021 to achieve its 2022 objective. This is illustrated by a graph below showing the app store downloads in the U.S and China from Q1 2017 to Q4 2021 and a table showing the top 10 countries by app store downloads.
Projected Quarterly App Store Downloads during Q1 2017 and Q4 2021 in China and the U.S
[Image source]
Top Ten Countries by App Store Downloads in 2019, 2020, and 2024
[Image source]
---
The Most Popular Mobile App Platforms Right Now
Now that we have discussed the state of mobile app development since the outbreak of the coronavirus pandemic, you may be interested in getting started with mobile application development for your business. In this scenario, one of the first things that you need to find out is what platforms are best for building mobile apps.
The anxiety of coding may force you to avoid creating your own application or put off your search for the right software or app development company to develop the app. The good thing is that entering the mobile app world is simpler than ever: no coding skills or expertise is required.
Whether it's for your company, service, product, blog, something completely random, the options for application development are both abundant and easy to access, that is if you look in the right places. You can develop and maintain your mobile app or site using through one of the platforms for building apps mentioned below, with a small commitment of resources and a desire to know.
1. Appery
A cloud-based mobile app creator, Appery can be used to build iOS or Android applications, which includes JQuery Mobile with access to its integrated features, Ionic, and PhoneGap or Apache Cordova, and Ionic.
As the creator is running in the cloud, there is nothing to add or download and getting started is simple. The Appery Application Creator provides a graphic editor that utilizes the elements of drag and drop to create the user interface. For any elements you add, Appery auto-generates the code. You can link to and utilize any REST API in your application, and immediately add a cloud database and backup to your application if data needs to be stored.
With the Appery widget collection, you can bring strong functionality, or customize personal plug-ins for utilization in your applications. If you work with people, you can quickly share your idea with them, and work together in real time for an additional fee.
2. Appy Pie
Appy Pie, an India-based business, is an application development platform that allows you to create free mobile variants of websites. This is why it's fairly popular and resident app pro-plans start at only $15 per month. They offer a wealth of ready-made layouts specific to the industry. Examples are SMB apps, dating apps, restaurant apps, and religious apps. Additionally, they have made the whole thing transparent and clear to everybody: choices of design, incorporated features, publishing etc.
3. Mobile Roadie
An app builder, Mobile Roadie enables users to create their own Android or iOS app and then operate it. More than that, the development process occurs in a very visual manner. Almost all types of media are supported by the builder, with automated extraction of keywords from Google News, Twitter, or RSS, and a fan wall that refreshes automatically to allow real-time connection with users.
Using the back end of Mobile Roadie, you can test the app reliably, just like the users will do on their phone. The app builder will also direct you through the registration process for the App Store, with Mobile Roadie testing for the consistency and suitability of your content.
This app builder also provides you with the ability to send out automatic updates. It can be information from your own website or from the service itself. The entire framework is an agnostic script, and you can extract data from a range of formats like HTML, XML, CSV, PHP, and JSON. You will be shown multiple options for layout when you begin. However, you can also tailor each of them to your preference.
4. Bizness Apps
Bizness Apps is a far more sophisticated platform as opposed to other small and medium-sized business app builders. For marketing companies, hotels, salons, realtors etc., this may be a good option. Notable categories include such items such as schedules, regional routes, coupons, rewards programs, and service reviews.
This app builder has a lot to give: elegant graphic editor, music and video files, shopping cart, several integrations (including third party services), GPS-based navigation and alerts, m-commerce applications, etc. Additionally, Bizness Apps promises lifetime support. For obvious reasons, however, we cannot verify or refute this.
5. TheAppBuilder
This app creator offers an app package to fit staff, clients, meetings, and marketing materials, with two separate solutions. This could be the platform to go with if you're developing an intranet app for a business. With the online toolkit, you can create the app, and either the instructions are given or the app creator itself will partner with you to identify and develop the app's layout and fill it with starting content.
You can allow your customers to get a view into different apps using the devoted AppLibrary, and even tailor it with your own advertising. With login credentials, you can safeguard private and public apps and disseminate them through the app store, using the Active Directory assimilation of the app creator to allow login with current user groups and credentials.
It is easy to modify the composition and function of your apps even after going live, since you can perform infinite modifications and publish them with a single click on multiple platforms. The app supports native Android, iPad, and iOS, with live notifications within sixty seconds of a change being made. The pace of the update seems to be unrivalled by other services.
---
Why Do You Need an App for Your Business?
By now, you know the best platforms for building your business mobile applications, but why does your business need an app in the first place? Mobile apps are regarded as one of the most effective business-related resources for targeting potential customers.
Every second adult on the planet has a smartphone and the demand keeps rising. That alone is a good enough reason for you to invest in mobile app development for your business. Still, we will provide you with some genuine reasons to build an app for your business. The following are some of the biggest reasons you need to invest in mobile app development for your business.
1. Growing Sales
Apps are a new avenue from which you can generate income for your business. Based on how big the audience is, this can be quite a substantial amount.
You will inspire customers to buy from you with promo, savings and reward push notifications. All customers who have activated your software can be contacted directly. For instance, with the aid of offline location tracking technology, your business can provide a promotional price to clients who are in areas close to your office or store.
Another benefit with apps is allowing customers to make payments with mobile, which is becoming increasingly popular. Customers today don't want to waste time shopping in-store anymore, since they can buy the same items with their phone while sipping their coffee at home or another place. With an app, you allow them to conveniently buy and pay for your products, which is likely to make them return to you for more.
2. Building an Audience
Through applications, you're actively developing bonds with your customers worldwide — regardless of where they or you physically are. An individual need not recall your domain name or link to a Google search, as is the case with a website, because the app is already available on their smartphone. They may even use it without internet connectivity, depending on the features of the app.
As part of their activation, a new app user must enter their private info so you can keep in touch with them. Offer rewards—as well as bonuses—to encourage individual users to download your application. After you do this, you can just sit back, relax, and reap the rewards of your investment in app development.
3. Communication and Marketing Channel
Apps can be effectively employed through different advertising campaigns to generate attention to your business. In such a way, you are growing clients' potential markets and building trustworthy ties with them.
The truth is: releasing your own application is on its own publicity move because it helps you to leverage your other promotional efforts. You may publish news about the related services, for example, or hand out press statements. In this case, the prospect of obtaining input from users is particularly important. You can, for example, conduct polling, carry out surveys, allow users to report errors, and more.
4. Analytics Tool
With a mobile application, you can gather a lot of valuable data that can be used for analytical purposes. For instance, you can verify taps per view to find out which items your people purchase the most, determine the amount of time they spend on the application, and even what features are most commonly used on the app.
By monitoring how users engage within your app, you can get closer to knowing how you can strive to improve the app to generate a more favorable experience for users. For example, with data such as location tracking, and user preferences, you can understand demographic characteristics. Having a good understanding of your user base is the secret to making your company a success.
5. Gaining Competitive Advantage
Not all businesses leverage their own sites' ability to the maximum, let alone do the same with their mobile apps. Some businesses don't even have them, as they find them useless for some reason. There is little competition in this field which should certainly be taken advantage of.
If you succeed in being among the first to begin utilizing mobile applications as a sales and marketing tool in your niche, you will enhance your status for the future. In the current highly competitive environment, you should try as much as possible to inform your customers/audience about your brand and increase its awareness.
---
The Benefits of Outsourcing a Mobile App
Although businesses are constantly adjusting to evolving trends in mobile-only and mobile-first approaches, retaining an in-house mobile app development team as compared to outsourcing it to an app development company is possibly still a contentious point, and for a good purpose.
The rewards of having leverage over a campaign with an in-house mobile app team come with multiple undesirable costs, including costs as high as a million dollars for just one application. Although using an in-house development team entails less budgetary risks, the contracting out of the mobile app development and maintenance to a specialist app development company has many advantages. The following are three of them.
1. Minimize Risk Factors
If you use outsourcing, you will get a proper view of the services provided, and how they can help your company. When you outsource to an app development company, they allow you to minimize a large array of risk factors. All the threats that were your liability are now transferred on. This makes life simpler and more comfortable for your business, allowing you to concentrate on your core competency. You simply need to specify your budgetary specifications to the top app development companies, including the estimated delivery date, and they will take care of the rest.
2. Cost Savings
The costs involved in creating an in-house mobile app will begin to stack up as you weigh in mobile developers' wages, the duration of the project, the technologies used and the costs of maintenance. In addition, labor usually accounts for most of the expenses involved in mobile app development and operating in-house.
Costs can also escalate dramatically, since a single developer seldom creates and retains viable applications. Having to spend thousands or even millions on an in-house app development team may not be feasible when the target is to be competitive and keep costs down to achieve big profits.
By outsourcing your mobile app development, you can save on certain expenses related to labor — such as the cost of wages, insurance, training, and overtime—as your business will no longer be responsible for delivering them. As the app development company will take responsibility for them, you will also save on the costs of maintenance and other related IT expenses.
3. One-Stop Solution for App Development and Management
By outsourcing to an app development company for all your development needs, you can partner with an outsourced app developer that stays with you for the long-term. Ultimately, this will allow you not just to develop flexible, mobile applications but also get access to long-term maintenance solutions. This is how a bond of trust is developed with the outsourced app developers.
When outsourcing mobile app development, the best way to go would be to hire a mobile app development company with a full stack of experts. This will help create a hypermarket-like experience for you. This means that one single company would be able to meet all your application development needs and you won't need to switch between multiple developers for different services. Isn't that great?
---
How Much Time Does It Take To Build an App?
Determining the time period for building an app will vary depending on a number of variables. However, in our experience, the time period for building an app is a matter of determining which tools you'll have accessibility to, the complexity of what you're attempting to develop, and what ability levels you'll be able to utilize during the development cycle.
Despite the above, there is a standard timeframe in which an app is developed. The standard reply we give to people questioning us about how the time period for creating an app is four to six months. However, this isn't to say that you can't create the first iteration of an app quicker than four months, or that it can't take more six months to develop. We have done both at the InfoSystem Hyperlink. Like every creative endeavor, there are several variables that may affect the timeline of app development, including your specific requirements for app functionality.
---
Which App to Build: iOS or Android
Having finally decided to pursue mobile app development for your business, you need to make a few decisions related to it. One of them is selecting which platform you will be launching your application on. You have to choose between iOS and Android.
So which one is the best? IOS provides developers with a more robust and private platform, which is easier to use. This is a closed platform where Apple builds all of its own software and hardware, encouraging strict criteria to be applied. As a consequence, the platform is fast and efficient; the apps are well built and, in general, less counterfeiting occurs. However, with its developer requirements, the iOS platform is very limiting, and you are given a set collection of tools to build your application.
On the other hand, with its open source code, the Android platform offers developers a low entry barrier. It also enables the utilization of widgets and systems generated by crowds. As a consequence, this platform is more agile than iOS, allowing developers to test the app's features and functions. This provides developers with the flexibility to change the default views / apps patterns.
At the same time, however, the development of Android apps is made more complicated and can take longer to master than iOS apps. Keeping the pros and cons of the iOS and android platforms mentioned above in mind, you can decide which platform to launch your app on.
---
How to Make Money by Developing an App?
Most of the mobile applications today are free to download and use. But, if you are not charging anything for app downloading or use, how can you make money from you application? There are many way of monetizing mobile applications which businesses today can use to sustain their operational activities and generate profits. Some of them include the following:
In-App Purchases—the premise is simple: consumers who find the app reward and develop a great affinity towards it would be ready to pay for ways to experience it better.
Advertisements—the use of the advertising app interface is among the most apparent and commonly used ways of monetizing mobile applications. You can charge third parties that show interest to have their ads displayed on your app.
Data-Selling—Apps that adopt this method sell data relating to the likes and interests of people to third parties that have an interest in it. They then use this data to create and advertise their own offerings
Freemium—in the model for monetizing apps, a collection of free features are provided via the application. The app owners can ask users to switch to a premium version of the app that provides updated versions of the functionality that users already enjoy to make money.
---
The Cost of App Development
There's a lot of confusion and uncertainty around the real cost of creating an app, as you might have imagined. In fact, it may shock some prospective app investors to find out how much time and money goes into building one – particularly the investment that is needed before you can see a decent return.
App pricing is generally dependent on a lot of variables that gives an overall experience-so it can vary greatly.
Research indicates that the average price for a basic application ranges from forty to sixty thousand dollars. The price of the medium difficulty application ranges from sixty-one to sixty-nine thousand dollars. A sophisticated app could cost between seventy thousand dollars and a 100k.
So, providing a rough response to how much it costs to build an app: it would cost about twenty-five thousand dollars to create a simple app. Small difficulty applications range from fort thousand to seventy thousand dollars which complex applications usually cost more than seventy thousand dollars.
---
What Questions To Ask the Service Provider for Your App Development Project?
The following are some important questions you must ask an app development company before deciding to work with them:
1. How Much Will It Cost to Build an App?
2. How Long Will it Take to Develop the App?
3. Which Platform should I build my app on: Android or iOS?
4. How Will The App Development Be Managed?
5. How Often Will I Need to Update My App?
6. How Will My App Be Launched on the Chosen App Platform?
7. Will the App Be Regularly Maintained?
By asking these seven questions, you will be able to determine whether the app development company is right for you or not.
---
Importance of Signing an NDA for Your App Development Project
Lack of confidence in business will cause you a serious loss. Your partner may sell your computer programs or your employee can steal your sensitive business information. These are just some of the reasons we have a non-disclosure agreement (NDA).
NDA is a legal contract that all parties involved—the consumer, its employees and the company developing the app has to abide by. This arrangement helps to secure the proprietary details relating to the concept of the application. No matter what the scenario is, the details are not to be revealed to any third party.
---
Marketing Your Application Once It is Live?
Only creating an app and placing it in app stores isn't sufficient. You can't hope to attract a large number of customers simply through people wandering onto your app. It's important to market your application, which can entail a substantial investment in time and resources.
If your company doesn't have the money for an ambitious marketing campaign, there are still a few things you can do on a smaller scale to attract users towards your application. These include the following:.
1. Market through Social Media
2. Make a YouTube video that has the potential to go viral and discreetly mention you app in it
3. Starting blogging
4. Host an event and provide incentives to use your app
5. Use affiliate marketing
This list is not exhaustive, and there are more things you can do to successfully market your app once it is live. However, the marketing strategies mentioned above are proven to be effective and thus are recommended.
---
Conclusion
In this Buyer's guide, we discussed the state of the app development industry since the outbreak of the coronavirus pandemic including the opportunities in the mobile app industry post COVID-19, the Impact of COVID-19 on the revenue of app store, and the impact of COVID-19 on app downloads.
We also discussed most popular mobile app platforms right now, the reasons you need an app for your business, the benefits of outsourcing mobile app development, the benefits of outsourcing a mobile app, how much time does it take to build an app, how to make money by building an app, the cost of app development, the questions to ask the service provider for your app development project, the importance of signing an NDA for your app development project, and how to market your application once it is live. All of this information is based on thorough research, making it reliable. If you have any queries or requirements, you can Email us at team.topappdevelopmentcompanies@gmail.com anytime.