Some of the biggest technology or software events of the year include
CES 2020
,
GITEX 2020
,
Mobile World Congress (MWC)
, and a few others. Ever since they were first launched, these events have been attended by scores of people. However, the attendance of these events has been on the decline since the past few years.
While there could be several reasons for this, a major factor contributing to lower attendance at software events, such as CES 2020, GITEX 2020, MWC, etc. is the emergence and increasing influence of digital marketing. Attendance in software events is on the decline because people who previously used to attend these events to discover interesting and futuristic inventions and innovations can now simply find them online on social media sites, event sites, and even Google.
As a result of the above, the response of the crowd towards software events, as well as the footfall at these events, is declining each year. Since the emergence of digital marketing, everything has become accessible online, and people don't need to travel tens, hundreds, or thousands of miles to watch a futuristic invention or innovation in action or operation. In short, digital marketing is changing how people think about software events.
How Digital Marketing is Changing the Live Events Industry
There was a time when people used to attend events or exhibitions just so they could see and hear a public figure speak right in front of their eyes. Many of these people couldn't even remember the exact name of the event after they returned home from it. However, the majority of people would remember the people that spoke on the podium and those they had one-to-one interactive sessions with at the event.
The reason for this is that, in the past, people did not have easy access to social engagement platforms or public forums like we have today. The emergence and development of digital marketing and two-way communication channels now provide people with plenty of opportunities to socialize, voice their opinion, and get all the information/news they need. The digital media and marketing revolution have enabled many opportunities for social interaction and sharing, which is having an impact on the event industry. This includes the impact on software/technology events.
A 'Like' on Facebook is the New 'Word of Mouth'
While digital media itself has enabled the great transformation of how events are marketed and sold, the fascinating thing is that many companies are now transitioning from physical events to events on the internet.
In fact, some of them simply put up their latest products/inventions/innovations with all the information about them on their website, social media pages, online news publications, and other similar online platforms rather than exhibiting them at a physical event venue.
According to buffer, more than
40% of the businesses
on Facebook broadcasted a live video in 2018. Many of them used the live video feature to promote a new product/invention/innovation.
Another interesting statistic was that more than
90% of events
creators had planned to use live video in 2019, with many of these creators planning to use an app to create an event. Additionally, Endless Events finds that more than 30% of marketers believe live events to be the single-most effective marketing channel. Following is an illustration of this:

(Above is a bar chart showing the different marketing channels based on their effectiveness according to marketers. [Image Source])
In addition to the above, more than
90% of marketers
believe that live events provide attendees with a great opportunity to form in-person connections.
A major reason for this is that many companies today, including technology and software companies, understand that putting up their latest products/inventions/innovations on the internet is a much more affordable way of exhibiting them than holding one's own event or exhibiting the products/inventions/innovations at an industry event such as CES 2020, GITEX 2019, MWC, etc. Another reason why they prefer the online channel for exhibition purposes is that they know their products/inventions/innovations will quickly become visible to people all over the world. This means that the audience and potential clientele for their products/innovations/inventions are no longer limited to a few thousand people.
Instead, the potential audience is the entire internet population, which exceeds 3 billion people. The percentage of these people a company can reach depends on how effective or successful its digital marketing efforts are. In other words, digital marketing has replaced event marketing as the best medium for a company to introduce or promote new products/inventions/innovations.
Not only can companies use Google to put their latest products/inventions/innovations in front of a global audience, but they can also leverage the power of social media marketing to demonstrate and promote products. For example, companies can use the Facebook Live feature to run widespread Public Relations (PR) campaigns online launched to generate excitement for a new product/innovation/invention. In addition to Facebook, these live events can be delivered to a global online audience through Twitter and Pinterest to catch their attention or captivate them.
Any technology that allows live streaming becomes instantly relevant to event marketing and the event industry. Every update that the different live streaming platforms undergo makes them more similar than ever to one another. However, one thing that these streaming platforms will never completely share is their user base. Therefore, you should find out targeting which social group with a particular live streaming platform will offer you the greatest advantage before starting to live stream.
Some of the ways to use live streaming to expand your reach include:
- Live streaming on YouTube, which has a greater chance of being found over time
- Focus on sincerity and personality over scripts and polished performances to attract viewers
- Use the Fear of Missing Out (FOMO) to build anticipation
- Viewers of live-streamed events love to hear their names being called out in real-time. This helps to increase engagement and generate interest in what you have to say such as information about an event
- According to both Facebook and Periscope, live streaming events should be no shorter than ten minutes and no longer than 90
- Ensure that the video quality is good even if you have a production budget of close to zero
- Choose your live streaming platforms carefully
- Reuse content in a live video only after careful consideration of its impact
- Inform your followers in advance when you'll be streaming next and don't rely on push notifications to alert them when you are live
In short, the success of new products/inventions/innovations is tied to a company's digital marketing strategy, which revolves around human interaction and the availability of information to a large number of people all over the world.
There are three main factors that enable digital marketing and ensure its success—promotion, sharing, and the urge/excitement to get information. This allows exhibitors to draw big audiences to their product demonstrations on Facebook Live or other online platforms that allow high-quality live streaming. So, if a company is looking to get a good return on investment from its marketing/promotional activities, then it should invest time and money into digital marketing without a second thought.
How Digital Marketing Improves Events
While digital marketing has led to the decline in attendance of software events in recent years, the two are not at war. In fact, if used intelligently, digital marketing can help to improve both the attendance and experience at events.
Today, many companies around the world are utilizing digital channels to improve sales, boost marketing, increase brand awareness, enhance communication, and bring improvements to virtually every aspect of their business. They are encouraged by the fact that the fast-paced digital world is now an ever-present part of people's lives.
With many companies transitioning to digital marketing tactics to successfully organize, promote, and improve the event experience, events have also been impacted by the digital marketing revolution. Below are some of the ways to use digital marketing to improve events.
1. Develop a Great Digital Marketing Strategy
The very first thing that you need to do for improving your events using digital marketing is determining who to reach out to. This can be achieved by utilizing the information gathered from competitor insights and previous events.
In other words, you need to find out who your event audience is. To determine this, consider factors such as age, gender, and the location of the preferred audience. Also consider factors such as the profession/occupation of the audience, their income, the problems they encounter on an everyday basis, and where they get most of their information from Google, website, apps, social media, etc.
It is important to get as much information as possible about the audience you are trying to reach because the more information you have about your audience, the better will be your chances of successfully reaching them.
2. Blog About the Event
If you want to ensure the success of your digital marketing efforts to promote your events, then you need to need to create and provide your audience with something that they find valuable. This follows the same strategy as the popular inbound marketing techniques that encourage people to reach out to companies rather than companies going out and finding potential consumers using outbound marketing strategy.
A great way to showcase everything related to your event is blogging, which is an inbound marketing strategy. Not only could blogs be used to provide information related to an event, but they also linked to other relevant online sources such as an interview with a speaker at the event or information about the venue/location where the event is to be held.
With every blog post that you write about an event, you will expand your reach to potential attendees of the event. However, you need to make sure that your blog posts can be shared via email and social networking sites.
3. Promote Events to Existing Customer Base Using Email Marketing
Regardless of the industry, email is one of the most powerful ways for companies to promote new products and/or services. Smartphones and mobile internet services have made it possible for many people today to stay connected to the digital world 24/7. This means that businesses can use email to reach the preferred event audience anywhere and at any time.
Not only can companies use email marketing to build excitement about an event during the run-up to it, but they can also use it to send offers, contests, or other things that will get the intended audience to sign up for the event.
Statistics show that more than
90% of people
check their email every day. Additionally, more than
70% of event creators
state that email marketing is their most effective marketing tactic. According to a study by the Content Marketing Institute (CMI), more than 90% of B2B marketers consider email to be either 'important' or 'extremely important.' Below is a bar chart illustrating the top content marketing distribution channels ranked according to their importance.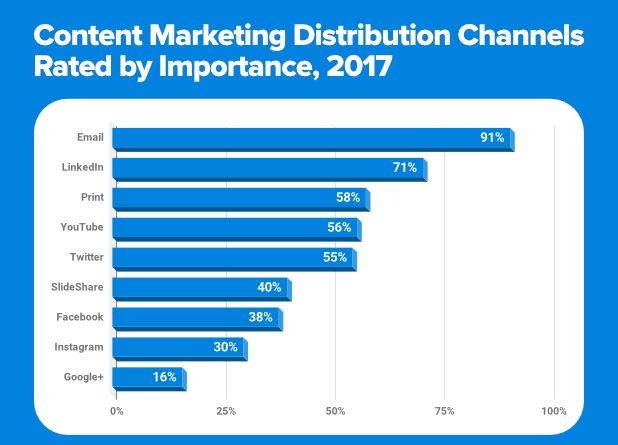 (The bar chart above shows the top content marketing distribution channel in 2017, according to their importance. [Image Source])
In addition to the above, email still reigns supreme when it comes to the first check of the day. Following is a bar chart showing what people check first on their smartphone each day: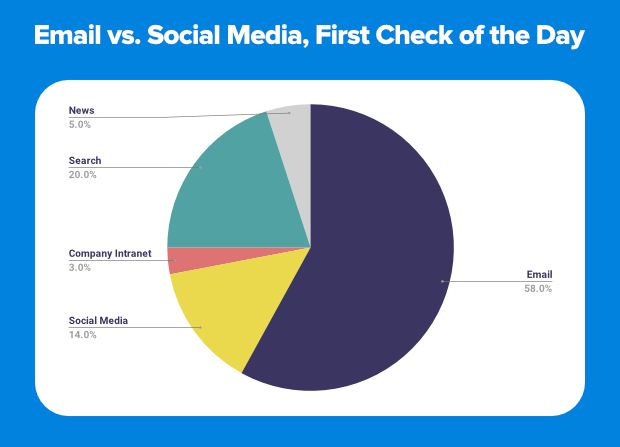 (The pie chart above shows what people check first on their smartphone in a day. [Image Source])
From the above pie chart, it is clear that email is the best digital marketing medium for companies and marketers to promote events and get people talking about them.
4. Deploy Video Marketing
An important digital marketing channel, video deserves the time and money of companies that are planning to organize an event to promote new products and/or services. The best part is that only a small investment is needed to perform video marketing for an event successfully.
For instance, it is possible to create a video studio on a budget. From this studio, you can not only make video announcements about upcoming events, but you can also shoot interviews there. A good strategy to get people interested in an upcoming event will be posting videos from previous events if you have held the same event in the past. You can also get people interested by filming event preparation or behind the scene actions. Since it is the perfect visual tool, you should use video as much as you possibly can to promote your event.
5. Create a Content Calendar
Another great way to use digital marketing to improve your events is planning a content schedule or creating a content calendar. This calendar should include blog posts, videos, social media posts, emails, and other content. Additionally, in the days leading to your event, you can schedule emails and social media posts to be delivered on different days and at various times. You can organize and execute email and social content ideas using tools such as HubSpot, Mailchimp, Hootsuite.
6. Social Media Should be Part of All Aspects of Your Event Planning, Promoting, and Executing an Event
In order to reach more people and get them interested in your event, you need to tap into the world of social networking. Contrary to popular belief, social media is much more than just a medium to repost content. Instead, you can leverage social media to create a buzz about your event and give your followers something to discuss and share related to the event.
An effective strategy would be creating an event listing on websites such as LinkedIn, Eventbrite, and Facebook and then coming up with unique ways of engaging with your audience on these platforms. Some examples are using humorous content or videos to get people talking. If you're not sure about how to create effective social campaigns for your events, then look online for inspiration.
It is important for you to remember that the more people share your content, the greater your social reach will be, and the more you will be able to promote an upcoming event. Ultimately, this will help to ensure the success of your event.
7. Improve Future Events by Utilizing Analytics
The strategies detailed above will be of no use if you do not know what is working for you and what isn't. Therefore, it is essential for you to measure all of your campaigns. A basic rule for planning your next event is finding out which emails got the most response or what was your most popular video or blog post. Examples of this are:
* The time of the day people engaged the most
* If they preferred blog posts or were more interested in visual content
* The most popular of the social media sites used
It is important to get information about every part of a campaign and then use this information to ensure the success of an upcoming event.
With the above-mentioned strategies or tactics, companies everywhere can successfully use digital marketing to improve events. Additionally, it is important to keep in mind that if you provide people with something valuable, whether it is an answer to their question, unique or interesting facts, information about the event itself, or fun videos, they will come to you rather you having to rely on outdated outbound marketing tactics.
In other words, the key to your digital marketing success is the content you use to promote your event online. Therefore, you must look to be creative and come up with ideas that immediately catch the eye and get people interested in and talking about your upcoming event.
The Digital Marketing Strategies to Drive Demand to Your Events
Since we are already discussing the impact of digital marketing on event promotion, now will be a good time to disclose the digital marketing strategies that can help drive demand to your events. Following are some of the marketing strategies you can try to drive demand to your events.
1. Remarketing
The attention span of internet users is extremely low. Therefore, companies and event marketers need to think out of the box to promote their events. Remarketing fits this bill; it is an excellent opportunity for companies and event marketers to reconnect with potential attendees and stay on top of their minds.
Remarketing works in an extremely simple way; a marketer places a specific tag on their website directly through Google or by engaging an online ad agency. People viewing the page will then have a targeted advertising piece following them across other websites.
Remarketing uses the visits to your website to reach out to the targeted audience on different online platforms such as Facebook, YouTube, and Google that ultimately results in a conversion. Since the journey before action has become longer, remarketing can be a great way to deliver a persevering and consistent message across the web.
While remarketing is an incredibly effective way of marketing events, it is also considered to be highly intrusive. Today, people have become used to targeted ads that use the user's search history, chasing them everywhere they go on the internet. However, only a few of them are comfortable with the idea of targeted advertising for an event that they are not interested in chasing them.
Yes, remarketing is an incredibly effective marketing tool. However, with the recent concerns surrounding data privacy on the internet—the Facebook-Cambridge Analytic fiasco being the most recognizable of them—companies and marketers have a responsibility to use remarketing and targeted advertising both tactfully and wisely.
Tips for Remarketing:
Following are some tips for using remarketing tactfully and wisely:
- Ads should be created for those who visited the bio page of a specific speaker which includes their topic in the title
- Provide each sponsor or trade show exhibitor their own pages on your site to make a remarketing ad for them
2. Pop-Ins and Exit Intent
Today, businesses everywhere are battling to catch attention online. Some of the weapons used to win the battle include large buttons, moving images, shiny colors along with pop-ins, pop-ups, etc. While some of these weapons or tools are extremely effective, others do nothing but annoy even the most patient internet users.
Today's pop-ins are unlike the pop-ups of the decade gone by in the sense that they cannot be blocked by blockers and have little impact on bounce rate. Moreover, visitors to a site are now more likely to avoid clicking on the X in the box that navigates them back to your site.
Although they are generally used to get website visitors to sign up for your email list, pop-ins can be used for other actions as well; these include social media following, coupon downloads, and app downloads.
If you're looking to drive desired actions from pop-ins, your initial focus should be on creating a registration page or website that has been well-designed. Ideally, this should introduce your intended audience to the event by using a brief copy that appeals to them and includes images that illustrate the event. Overall, there should be no doubt left in the consumer's mind that the event is right for them.
Only after the above objectives are achieved, a carefully placed pop-in will be valuable in highlighting a call-to-action. Growth hacking stipulates using inexpensive touchpoints as much as possible to get closer to a conversion. With pop-ins, you can ensure the right level of behavior to avoid crossing the line or coming off as aggressive to get the job done.
Tips for Getting the Most Out of Your Pop-In Strategy:
* Ensure that the color of your CTA button is different from that of your background. Additionally, the button should be centered and clearly stated
* Trade with your visitors. If you require something special from them that involves a pop-in, then offer them something special in return
* Make sure your CTA is concise; the visitor should be able to read it in within 10 seconds
* Use the colors of your website to be on-brand
* If a visitor spends more than the average time spent by visitors in a given page, make sure to offer them customer support on pages
* Everyone who registers for your event should be sold the keynote speaker's book and offered a companion update or a bonus eBook
* Ask registered visitors their reason for attending your event. Give them three options and based on their choice they should be navigated to one of three different pages designed for their specific needs
Exit Intent
These are a sophisticated variation of pop-ins involving a call to action. A visitor's behavior triggers exit intent and is often the final effort to get a visitor to convert before they navigate away from your website. Following are some effective exit intent pop-ins triggers:
Time-Based: They pop-in after a visitor has spent some time on a page. The amount of time someone spends on a given page is a good indicator of their interest in the content there.
First-Time Visitors: Often, the most crucial impression is the first one. Therefore, you should look to immediately deal with the most common misconceptions and get buy-in from the visitors by offering the best that you have to give.
Abandoned Carts: Nothing can be more frustrating for a business than an abandoned shopping cart. You need to remarket to all those who abandoned the cart before completing a sale. One of the best ways to do that is by offering them a percentage off for a limited time.
Add-Ons: You can turn a smaller sale into a larger one with pop-ins for additional complimentary items provided you have a registration page.
3. Long-Form Content
The success of any event marketing campaign depends heavily on the content used for promotion. It is the responsibility of those marketing or promoting the event to create and use valuable content in their marketing.
While more resources may be needed to create long-form content such as blog posts and content videos, it is worth it in most cases. No matter where you use it, poor content will lead to a loss of viewers or readers. There is no genuine excuse in this day and age for not creating professional content that is relevant to the target audience for the event.
The long-form content you use in your event marketing should be created with your target audience in mind. This is regardless of what form the long-form content takes: blog post, report, article, guide, whitepaper, or a long tweet. The more value you can provide to your target audience with your content, the greater your chances of using long-form content to market your event successfully.
Consider the social media content of our brand as an appetizer and the long-form content as the entrée or main course that comes after that. Focus on creating long-form content that no else in your line of business has thought about and that your target audience finds valuable.
Today's consumers are intelligent enough to avoid weak manipulative content and clickbaits. You need to treat content marketing as one of your products rather than a way to get people to your products.
Using long-form content, you can analyze a topic in great depth or perform a wide comparison between important topics. Moreover, it can be repurposed several times, making it extremely valuable for social media.
The opportunities multiply with the development of more long-form content. This is made possible by the ability to perform cross-referencing and combine existing content to develop further content. Today, long-form content is a highly valuable asset, and event marketers are using and reusing it more creatively than others to their advantage.
Tips to Use Long-Form Content:
- Find out what topics linked to your event is your target audience most interested in. When planning content development, it will be sensible of you to consider the SEO of your event site.
- Perform detailed research on each topic. You can ensure deeper research by collaborating with authors, speakers, or influencers.
- Do the best you can to create quality, valuable content, and include links that navigate to other useful content/information on the internet.
- Make sure that your long-form content can be adapted to other formats. This is necessary to provide your audience with as many opportunities as possible to come across and consume your content. For example, you should be able to convert your blog post into video content or a podcast.
- Using the social media channels and email of your company, share the long-form content as much as you can. Some of the channels you can use to share your content are LinkedIn and Facebook groups. Additionally, create concise social media posts by repurposing the content. Examples of these posts are poll questions for Twitter or Facebook, video highlight clips, and image quotes.
- Periodically update your content and then share it
4. Events Growth Hacking
Every few months, the lines get blurred between growth hacking and what is currently considered as the best practice in marketing. Growth hacking marketing puts emphasis on more experimental campaigns with a focus on fast results. This is especially true when the goal is to grow audiences.
In order to show results that build momentum, marketers quickly pivot and perform A&B testing. The reason for featuring growth hacking on the list is that the marketing landscape is shifting so quickly that the right formula for success can only be determined through result driven trials.
In order to gain social media followers, grow communities, and fill up events, many intelligent event marketers utilize machine learning and automation. Both the tools and techniques available for this purpose are constantly improving. Thus, growth hackers are continuously experimenting and testing with many risks along the way.
There is no doubt that growth hacking will continue to grow in 2020. However, with concerns around data privacy increasing amongst internet users, there will be questions raised about the marketing techniques used.
Too much reliance on the wrong type of growth hacking by event marketers can lead to the alienation of the event's target audience. A sign of an intelligent event marketer is that they look to utilize techniques and tools that offer clear value to the participants of the event.
Following are some effective strategies for growth hacking:
1. Social Media Follower Growth Hacking:
Poor growth hacking techniques are what lead to rapid practices that cannot be sustained. Tricking people to prove your credibility by buying followers and automating most forms of content will do more harm than good. Therefore, you should look for sustainable practices.
One such practice is the use of web-based applications that make it possible to target influencers or people following your competitors in order to build your audience quickly. Another way that helps to quickly gain followers without seeming as a spammer is the targeted automation of post liking on Instagram and Twitter.
2. Tease to Convert
You should focus on creating social media posts that encourage people to navigate to your site for the full information if your main goal is website conversion. However, you should not indulge in clickbaiting. Instead, focus on making your posts value and promising more value on your site.
You can improve your chances of converting clicks by using enticing graphics. Additionally, image variations that put across the CTA in different ways will help to expand a campaign. For example, if you are looking to send visitors to a list, mention one item in the post and located all others on your site.
3. Sharing Strategies
Since you can utilize social sharing to create impressions that you don't have to pay for, the best forms of growth hacking are present in the form of social media tactics. However, precision is needed to get followers to share social media posts designed to entice them.
Unless you're offering something that is exclusive or ending very soon, your ads or self-promotion content will be rarely shared or retweeted. Most shared content includes timely posts on current topics and trends that are being talked about, and only instructional content comes close to this in terms of shareability.
Direct your tweets at influencers with unique messages. However, make sure to send requests first to avoid coming across as overbearing. It's simple: the best way to get a retweet or share is by asking for one.
Conclusion
From the above statistics and information, we find that the emergence and increasing influence of digital marketing have lowered the response of the crowd towards software events as well as the footfall in these events in recent years. However, we also find that the impact of digital marketing on events—software events, in particular—has not been all negative. In fact, we find that there are several ways in which digital marketing is helping to improve attendance at events.
In this research on the impact of digital marketing on software events, we have discussed how digital marketing has caused a decline in the response towards and the footfall in software events. We have also discussed the ways in which digital marketing improves events, and the digital marketing strategies to drive demand to your events.
Overall, while digital marketing is indirectly causing a decline in the attendance of software events, it offers companies and event marketers will a great opportunity to promote their products/inventions/innovations and improve their event marketing.
Our Review Process
Writer's team of Hyperlink InfoSystem - a top
mobile app development company
spent more than 20 hours researching the impact of digital marketing on events, including the impact of digital marketing on software events. To come up with the information and statistics presented above, they read through the research of top sites such as Eventbrite, Endless Events, and OptinMonster. This research process makes the information provided by us trustworthy.